Survey shows it's more difficult for females to be promoted in firms.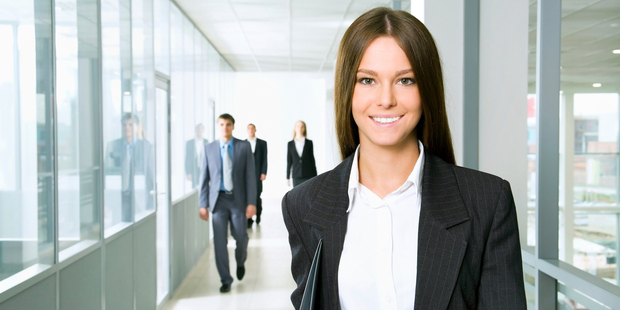 New research has found that New Zealand organisations trail much of the world when it comes to the proportion of women in leadership positions. The latest Randstad Workmonitor Report reveals that only 37 per cent of Kiwis surveyed say female employees make up at least half of leadership positions with their employer, which is fewer than in the US, Britain, Italy and many Asian countries.
Clare Parkes, founder and CEO of Clarian Human Resources, says she is not surprised by the findings.
"There is a component of New Zealand's culture that is about having a 'work/life' balance," she says. "How this translates with women is that they are more inclined to make traditional choices around family and the priority this takes over their career, which means they don't put themselves in a position to be considered for a leadership role."
Half of New Zealanders surveyed say it is more difficult for women to be promoted to leadership positions than men. Parkes believes this is because women tend to be less confident and willing to "put themselves out there" than men, "so that when a woman does act more confidently or promotes herself actively, it is seen as less acceptable behaviour from a woman than it is from a man", she says.
The study says, however, that New Zealand companies are ahead of the rest of the world in encouraging female employees to pursue leadership positions, and Parkes says she is aware of activities and initiatives that offer gender-specific encouragement to women such as mentoring, networking and general sharing of experiences.
"Women do this naturally, so the creation of forums and opportunities to do this are what is needed, given we have such busy agendas regardless of our home life situation."
Professor Sarah Leberman runs the Achieving Career Excellence programme at Massey University, where top female students are supported in their transition into the workplace by being exposed to different female leaders and understanding their journey to the top.
She says often female graduates are not confident at communicating, will take the first job offered and are not good at negotiating.
Parkes, a former guest speaker to the programme, says: "This helps them understand how to promote themselves, how to achieve their goals and how to get what they want without compromising their life choices."
Leberman says the five-week programme, which covers leadership, career planning, negotiating, communicating and "where to from here?" has been well received by students and found valuable by those now in the workplace. The programme is being run at all three Massey campuses, and similar courses are now being picked up by other universities.
Parkes thinks it is debatable whether businesses should be actively promoting women into leadership roles as she believes a greater level of diversity is what is required.
Paul Robinson, New Zealand director of recruitment for HR specialists Randstad, agrees. He says the key is for business leaders to recognise, develop and reward the best person for the leadership role every time.
Parkes says, however, that having a greater level of gender diversity at the management, leadership and boardroom table level is a useful dynamic as it is different.
"I think that women bring a different perspective to the table - one that often demonstrates a wider sense of business, a more holistic approach. Their perspective comes from a different attitude, different life experiences and a different lens than men have, however, this is of course true of every person."
Perceptions over the impact flexible and part-time working arrangements can have on career opportunities are mixed, with 47 per cent of New Zealanders surveyed believing part-time work hinders career progression.
Parkes says it is difficult to generalise how employers can assist women in balancing a leadership position with home and family life.
She says there needs to be an individual approach to those women identified with the potential to hold a leadership role, but a focus on outcomes rather than input would be one way of encouraging women to engage in more senior roles.
"Being driven more by deadlines and outcomes, and encouraging more virtual management and less office-bound or geographically bound roles is what is needed," Parkes says.
"A woman can re-engage with work later in the evening once her family responsibilities are complete but leave earlier in the afternoon so she can meet those demands."