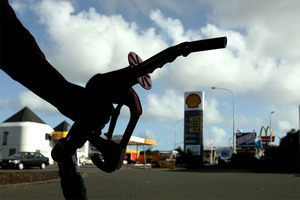 Attractive discount schemes out to counteract pain at the pump draw nearly 80 per cent of Kiwi motorists to particular service stations, a new survey reveals.
Results of a 2013 Canstar consumer survey, which investigated the petrol-spending habits of about 2200 New Zealanders, found 77 per cent of people visited a certain petrol station to take advantage of its discount dockets or loyalty scheme.
This is up from 67 per cent in 2012.
AA's Mark Stockdale, who manages the service's petrol price watch, said drivers were becoming increasingly savvy in seeking out the best petrol bargains.
Latest AA figures show petrol cost an average of $2.16 per litre during the first week of June, up from $2.12 the previous week.
Mr Stockdale said petrol prices had remained around the $2 mark in the past two years.
"There has been times during those years when they've gone under $2 and when they've gone above $2.20''
"But, motorists will basically be seeing that as the new reality.''
Using discount vouchers and reward schemes was another tool for drivers on a budget, he said.
The special offers were also contributing to increasing competition between retailers.
"Because different retailers have different loyalty offers - some of them will be doing AA Smart Fuel and some of them will be doing supermarket dockets or Fly Buys - you're seeing more competition between different retailers.''
For example, some retailers had reduced their petrol prices by 6 cents permanently to match the AA Smart Fuel discount, Mr Stockdale said.
Canstar New Zealand general manager Derek Bonnar said the survey revealed petrol station service was also important to New Zealanders.
"Nearly 30 per cent of survey respondents showed a preference for having their gas pumped for them.''
Petrol retailer Z Energy, which rated number one in the survey for overall satisfaction for the second year running, had attendants on hand to help motorists refuel during off-peak hours, he said.
Other results showed more Kiwis were using public transport - especially in the main centres.
About one in five Aucklanders surveyed were using public transport more than in 2012 and about a quarter of Wellingtonians said they had increased their use in the past year.
Petrol cost survey:
* 77 per cent of people visit a particular service station to take advantage of fuel discount or docket schemes
* 67 per cent said the rising cost of fuel was impacting their quality of life
* 61 per cent said the consciously avoid fast acceleration to make my fuel go further
* 53 per cent they had reduced the use of car air conditioning to save money
* 17 per cent said they were using more public transport than a year ago