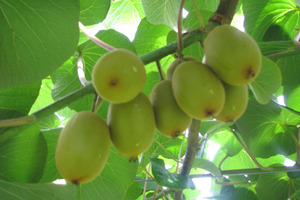 Kiwifruit export returns are forecast to fall 20 per cent this season - but tastier-than-ever fruit may remove the sour taste from growers' mouths.
The Ministry of Primary Industries this week released a Situation and Outlook report which predicted kiwifruit export earnings will drop from just over $1 billion in 2013 to $830 million in the year to March 2014.
The fall in revenue is largely due to the devastating impact of Psa on gold kiwifruit vines which will result in a 43 per cent reduction in gold kiwifruit export volumes this season, the report says.
However, it's not all bad news for the sector, with Zespri this week announcing this season's kiwifruit is the tastiest ever recorded.
Zespri general manager of marketing Carol Ward said Zespri-supplying orchards were tested for levels of dry matter before harvest, with dry matter corresponding to sweetness in ripe fruit.
"We're seeing the highest-ever levels of dry matter for all categories of Zespri kiwifruit, which means a vintage year for fantastic-tasting fruit. Dry matter is up substantially in all our varieties, so the fruit is tasting great."
The high dry matter in the kiwifruit was caused by the long, dry summer experienced in the Bay of Plenty this year, Ms Ward said.
The region recorded its highest levels of sunlight in the first three months of the year since records began on modern equipment in 1992.
This corresponded to the lowest rainfall levels on record, which resulted in slightly smaller but particularly tasty kiwifruit.
"Our offshore marketing teams are telling us that this is driving very strong repeat purchasing by consumers. Consumer research has confirmed that the higher levels of dry matter convert to sugars in the fruit and this is proven to increase both consumers' enjoyment of the fruit and their intention to purchase again."
Ms Ward said Zespri marketing teams had been overwhelmed by the positive reaction from customers to this season's tasty fruit, "which has helped kick off a really strong start to the 2013 selling season around the world".
Zespri general manager of grower and government relations Simon Limmer said fast-selling fruit would increase demand and create higher per tray returns for growers.
Per tray returns were expected to be similar to last season's which were the highest in 10 years, he said.
The MPI Situation and Outlook report predicts export volumes will fall from 101 million trays of kiwifruit in 2013 to 88 million in 2014. However, from there volumes were predicted to increase to 90 million trays in 2015, 95 million in 2016 and return to 101 million in 2017.
Export returns will follow the fall and rise of the volume predictions, bottoming out at $830 million in 2014 and rising to $1.27 billion in 2017.
The report also predicts export earnings will be negatively impacted by the high New Zealand dollar in 2014.
For more articles from this region, go to Bay of Plenty Times