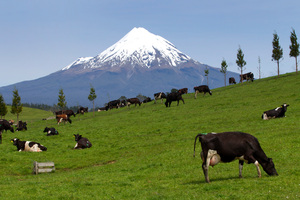 Analysts have trimmed their short-term earnings forecasts for Fonterra because of ongoing strength in dairy prices and what they expect to be higher costs associated with the launch of new products in China.
Units in the Fonterra Shareholders' Fund - a claim on the dividend-paying, or manufacturing side of Fonterra - have been under downward pressure in recent weeks. The units closed down 8c yesterday at $7.54, after reaching a record high of $8.09 last month.
The first GlobalDairyTrade (GDT) auction for 2013/14, the results of which came out yesterday, showed the season had started on a soft note but prices were still 54 per cent above year-ago levels. Share market analysts said prices had been slower to revert back after spiking sharply when the recent drought was at its peak.
Kar Yue Yeo, director of equity research at First NZ Capital, said he had lowered his earnings before interest and tax estimates by $5 million, or 0.4 per cent, for the 2012/13 year, by $75 million (6 per cent) for 2013/14, and by $62 million (5 per cent) for 2014/15.
He said the revisions reflected higher launch and campaign costs for a series of products across major cities in China.
But Yeo and others remained upbeat about longer-term prospects.
"As currently the largest global supplier of basic dairy commodity into the global milk pool, the co-operative could double its earnings before interest and tax from $1 billion to $2 billion over time by significantly expanding its existing consumer and business service brands in the global dairy market, as well as from better cost efficiency," he said.
Goldman Sachs analyst Marcus Curley said higher-than-expected commodities prices, post-drought, would feed into lower profitability for Fonterra's substantial ingredients business and would put pressure on margins for the consumer brands.
Expansion into paediatric formulas in China under the Anmum brand would be a net cost in 2013/14.
"We still expect very healthy growth but we have trimmed back the 2013/14 result as a result of high commodities prices and the investment required in China," he said.
Fonterra last month forecast a farmgate milk price of $7 a kg of milksolids for the 2013/14 season. At that level, the milk price would be a 20.7 per cent improvement on the forecast for the 2012/13 season.
Chief executive Theo Spierings said at the announcement that shareholders and Fonterra unit holders should expect the strong lift in international dairy powder prices to create "a more challenging environment" for the co-operatives' earnings in the first half of the 2013/14 financial year. Fonterra's net profit was $667 million in the year to July 2012.
- APNZ