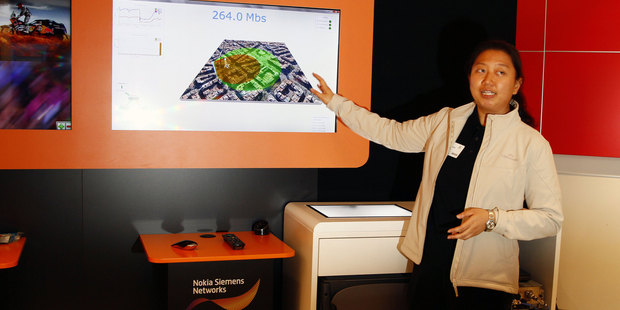 Hard on the heels of launching a 4G service in parts of New Zealand, Vodafone and its technology partner Nokia Siemens Networks this week demonstrated the future upgrade for its mobile broadband.
Called Long Term Evolution Advanced or LTE-A, the technology allows for substantially faster speeds than what's available today. In the demonstration, the Nokia Siemens equipment was measured at just below 300 megabits per second.
To compare, 3G broadband typically provides 5 to 15 megabits per second speed, and Vodafone's current 4G network is capable of up to 100 megabits per second in real life, with 50 megabits per second uploads.
Vodafone's head of networks Tony Baird explained that the telco's future LTE-A network will use a mix of frequencies, 1800 and 700MHz. The latter spectrum comes from the switch off of the analogue TV signal, and the government is aiming to auction rights to it in October this year and Vodafone intends to bid for frequency bands.
"We'll definitely trial [LTE-A] in 2014," Baird says.
Baird sees the faster wireless broadband as a companion technology for New Zealand's Ultra-Fast Broadband fibre to the premises network, and not a replacement for it.
"Glass [optical fibre] gives you huge capacity and future proofing, but LTE gives you same sort of performance," Baird says.
"It's a great bridging technology," he says. Some of the uses for LTE-A envisaged by Baird includes high definition 3D video which requires high data rates previously not possible with wireless technology.
Baird did not say however if Vodafone intends to provide the large data caps needed to use services such as LTE-A fully. Currently, Vodafone offer one to three gigabytes a month on its 3G and 4G Smart Data plans, amounts that would last less than a minute with 300 megabits per second LTE-A.
The telco upgraded its mobile network over the summer months, moving it from the older 2G technology to newer 3G and 4G, according to Baird. He says the cost of that upgrade alone is over $100 million, and the telco is looking at further spending to boost network capacity.
Vodafone has also uprated its national fibre backbone network which it got as part of buying TelstraClear last year by using new optical data transmission technology from United States vendor Ciena, to reach 100 gigabits per second.