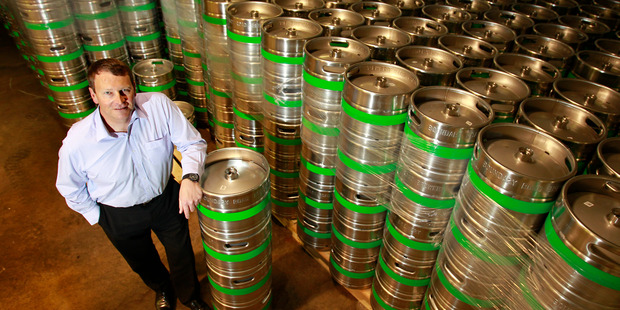 Auckland-based manufacturer Independent Liquor is preparing to make a move into the retail trade for the first time, announcing it has reached an agreement to purchase The Mill, a nationwide chain of alcohol stores.
The liquor maker has not disclosed a price, but says the acquisition is expected to be confirmed by the middle of this year, pending certain conditions.
When the Business Herald tipped the sale in February, one industry source said The Mill - which operates 35 stores from Whangarei to Dunedin - was a heavy discounter and Independent's customers (other liquor retailers) might not be happy with the manufacturer stepping on to their turf and undercutting their prices.
"You would be seeing a heavy discount producer getting together with a heavy discount retailer, which seems like a nasty cocktail," the source said.
Today, Independent chief executive Julian Davidson said the purchase would give his firm better market access, while also benefiting consumers by ensuring they get a greater choice of products.
"We've made this move because currently, quite often, a customer's product choice is already made for them before they enter a liquor store," Davidson said. "This is because of producer dominance in the retail channel, which can result in the de-stocking or blocking of some brands and product portfolios. We've experienced this first hand - it's anti-competitive and should be challenged."
He said the acquisition would help "level the playing field" and was similar to another initiative launched by the firm aimed at overcoming "competitive barriers" - its entry into the tap beer market in 2011, which was previously dominated by local brewing giants Lion and DB Breweries.
Lion owns the Liquor King chain of bottle stores.
Independent brews international beer brands such as Carlsberg and Kingfisher under licence, as well as its own Boundary Road beer range, but is best known for pioneering the development of Australasia's RTD market.
Jeremy Livingston, who will be leading The Mill business as chief executive, said the sale agreement brought the possibility of a major face-lift for the firm's stores.
"Part of our future plan is to refurbish the chain so as to lift retail standards and improve the shopping experience," said Livingston. "We are also looking at franchising the store network, which will provide local operators with the opportunity to develop their own stores under a strong national brand. This model will put money back into the store's local community through jobs and local investment, and is similar to many established retail models."
Livingston said The Mill would be run as a standalone business, separate from Independent.
"Essentially, it will be business as usual at The Mill, but over time customers will notice that there are more brands and products available to them," he said.
The Mill is owned by New Plymouth-based Christopher and Nyall Simkin, according to the Companies Office.
Its website says the firm opened its first store in Taranaki in 1993 and the business had been successful as a result of low overheads and reduced prices.