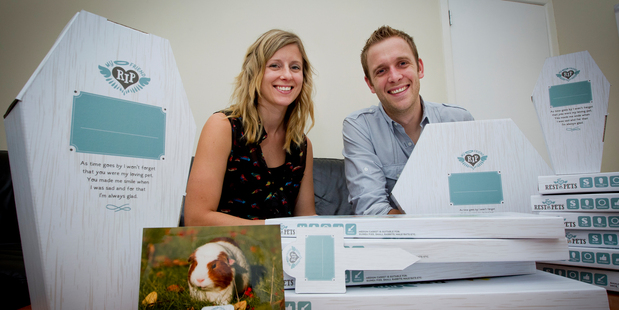 It was the death and unceremonious disposal of a guinea pig that sparked a business plan for Jane Bogust.
Hearing about the burial of the animal in a disused tea bag box left her thinking there had to be a better, more dignified way to say goodbye to family pets.
"The guinea pig didn't fit in the box very well," Bogust said. "It wasn't very nice and my friend and her son were a bit distressed by it."
Following a year of product development, Rest In Pets was launched this week.
Founded by Bogust and husband Mat, the start-up has created a three-size range of biodegradable, cardboard animal coffins suitable for pets ranging from mice and birds to cats, rabbits and, of course, guinea pigs.
There are also urns for animals' ashes.
Prices range from $20 to $60, depending on size, and each casket comes with a photo frame and grave marker.
Rest in Pets began a crowd-funding campaign on the United States-based Kickstarter website this week.
The couple hope to raise at least $11,000 through the campaign, enabling them them to take their products, which will be manufactured in China, to market.
Kickstarter allows members of the public to contribute funds to projects online.
Those who pledge money to Rest in Pets will receive product in return, such as a small casket for backers pledging $20 or more, to an urn for those pledging $30 or more.
More than $1,500, from 30 backers, had been raised through the campaign by yesterday afternoon.
While pet caskets are far from new, Bogust reckons the design and price of Rest in Pets' products will set them apart from the competition.
"Unless you want to pay a lot of money for wooden caskets, there isn't really much around that is affordable," she said.
"Who's going to want to put a guinea pig in a wooden casket?"
Mat, a cardboard packaging designer by trade who already runs another business, Think Packaging, designed the caskets and urns.
Bogust said the company, which worked with Auckland business incubator The Icehouse during its development phase, would focus initially on the New Zealand market.
But there was scope for taking the products to international markets if the Kickstarter campaign raised enough cash.
Even the local market is lucrative, Kiwis spending about $1.6 billion on their pets each year, according to research by the New Zealand Companion Animal Council.
The Rest in Pets product range does not include caskets large enough for dogs, but Bogust said pooch-sized coffins might be created if demand for them existed.
"A lot of people tend to cremate dogs more than they cremate rabbits and those kinds of pets."