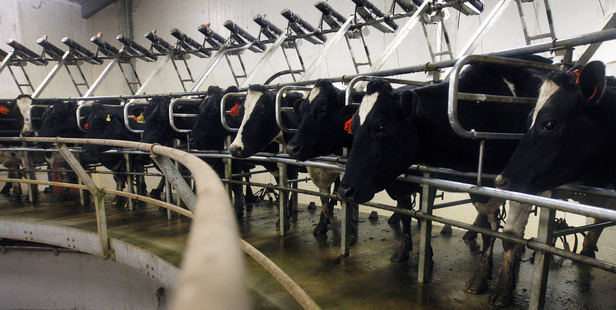 Prices of dairy products extended their decline from a record high as a resurgent US dollar weighed more generally on commodity prices and concerns abated about the impact of drought in the North Island.
The GDT-TWI Price Index fell 2.1 per cent compared to the last sale two weeks ago in only the second decline this year. The average winning price fell to US$4,549 a tonne from US$4,597 a tonne. The price reached US$4,968 a tonne last month, the highest since the GDT platform began in July 2008. Whole milk powder, the biggest product by volume, fell 1.7 per cent to US$4,722 a tonne.
The Dollar Index, which tracks the greenback against a basket of currencies, is at its highest levels this year amid speculation the Federal Reserve may signal an end to quantitative easing, though it eased overnight on weaker-than-expected US industrial production.
The total volume of dairy products sold at the latest auction was 17,637 tonnes from 17,237 tonnes two weeks ago.
The price of anhydrous milk fat fell 0.2 per cent to US$4,598 a tonne and butter milk powder dropped 5.1 per cent to US$3,876 a tonne. Butter tumbled 12.4 per cent to US$3,846 a tonne.
Cheddar, lactose and milk protein concentrate weren't offered. Rennet casein rose 3.7 per cent to US$10,105 a tonne and skim milk powder fell 2.8 per cent to US$4,252 a tonne.
There were 91 winning bidders over 16 rounds. There were 154 participating bidders out of a total number of qualified bidders of 811.