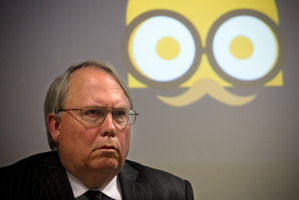 Sky Television is refusing to spell out the uptake for Igloo, its pay television joint venture with Television New Zealand.
The company said yesterday that Igloo had launched at a bad time - on December 3 - six months late after unexplained problems with its set-top boxes. Sky owns 51 per cent and has day-to-day control running of the firm while TVNZ owns 49 per cent.
Sky told investors yesterday that Igloo had changed their forecasts and now aimed to have 19,000 subscribers by December 2013.
It expected Igloo would be breaking even when it reached 40,000.
Sky chief executive John Fellet said uptake for the Sky-lite device - which offers 11 Sky channels and most free-to-air channels and access to pay-per-view movies online - had picked up after a slow start.
Uptake had been encouraging during the recent switch-off for analogue services in Christchurch.
Igloo general manager Chaz Savage exited this year, three months after the launch and a new general manager, David Joyce, was appointed.
Sky TV has more to gain than TVNZ from the joint venture. At $25 a month - about 60 per cent of a basic Sky subscription - Igloo aims to draw customers who do not want to pay for a full Sky subscription. Igloo is also expected to diminish potential market for any new pay TV operators.
TVNZ chief executive Kevin Kenrick declined to comment on uptake and said Igloo was aimed at an audience which wanted a few pay TV channels, but was not interested in sports.
A TVNZ source said it would be watching closely to see the performance of Igloo after the failure of last venture into pay television technology - Tivo. The 50 per cent stake in the company led to a $14.8 million write off in the TVNZ accounts for the year to December 31, 2010.