Once-troubled finance company will pay first dividend since 2007 and is looking at possible purchases.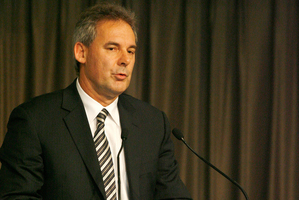 The once-troubled finance company Dorchester Pacific says it will resume dividend payments this year for the first time since 2007.
The company, which now has a broad presence in the financial services sector, also announced yesterday an upward revision to its earnings forecasts, a capital restructure, a planned share placement and said it had acquisitions in mind.
Dorchester, which was caught up in the local finance company meltdown and global financial crisis of 2007-8, was rescued by The Business Bakery in 2009.
The company's core businesses are now in business finance, insurance and debt collection.
Dorchester said it would pay out around 40 per cent tax-paid profit in dividends to shareholders from April 1, with the interim dividend to be paid in December this year.
Chief executive Paul Byrnes said the company was breaking even at around June last year but that earnings had stepped up since the purchase of EC Credit, a debt collection agency.
Now all three strands of the business were making earnings contributions, he said.
Byrnes said renewed dividend payments would provide a modest return over the next year or two.
"We are signalling that we have confidence in the profit and cash flow and are aiming for the stock to be considered a yield stock in the small-cap financial services space," he said.
The proposed capital restructure would boost shareholders' funds from $29 million to about $61 million.
Byrnes said Dorchester had another company in the financial services sector in its sights for possible acquisition.
However, any new acquisition would have to offer "sufficient scale" to be worthwhile.
The company's 150 million options - derived from previous efforts to get it back on its feet - expire at the end of this month. At the exercise price of 12.5c a share, option holders stand to be in the money, going on yesterday's closing share price of 34c.
The Business Bakery and Hugh Green have 23 per cent each in Dorchester and Byrnes has about 6 per cent. All three - who have indicated they will take up their options - will see their holdings increase slightly.
The company also intends to place up to 30 million shares with institutions as part of the restructure.
Dorchester said it now expected a net profit for the year to March 2013 of around $1.6 million, up from a previous forecast of between $1.2 million and $1.3 million.
The forecast profit after tax for the financial year to March 2014 has also been lifted to $6 million from a previous forecast of between $5.5 million and $6 million, and increasing to $10 million in each of the subsequent two years.
Byrnes said after-tax earnings forecasts would be assisted in the next few years by about $20 million of tax losses not on the balance sheet. The company is also proposing an earlier conversion to ordinary shares of 110 million optional convertible notes, which would otherwise be due for repayment or conversion to ordinary shares on March 31, 2015.
"Noteholders have indicated acceptance of this arrangement and we will be calling a meeting of shareholders to approve the transaction," Byrnes said. The $11 million of debt on the balance sheet would then become equity.
- APNZ