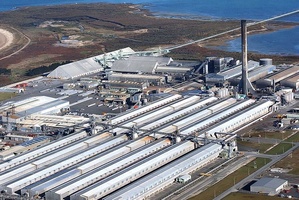 As Rio Tinto and Meridian Energy haggle over the price of power for the Tiwai Pt aluminium smelter, optimism about the metal's future has faded in line with modest expectations for world growth, Deutsche Bank says in its quarterly commodities report.
The bank said the "considerable" optimism with which the market began the year faded fast by the end of the first quarter.
"Continued weakness in Europe has been exacerbated by disappointing demand from China and other emerging/developing markets," it said. "Only the United States seems to be performing well in terms of growth and this is far from sufficient to meaningfully improve aluminium balances."
Complicating matters is the fact that millions of tonnes of aluminium lie in warehouses thanks to growth in so-called aluminium financing deals.
The aluminium market is in contango, which is when the price of a forward or futures contract trades above the current spot price. Financing deals involve speculators warehousing the metal and entering into forward selling contracts.
With very low interest rates, market players can sell forward aluminium at a higher price than the costs involved in keeping it in a warehouse.
While premiums for aluminium appear to be stabilising, the warehousing situation has not fundamentally changed, despite a general flattening of the aluminium forward curve.
"Certainly the warehousing phenomenon still has some way to go before it ends," Deutsche Bank said.
Aluminium last traded on the London Metals Exchange at US$1871, down 9.7 per cent from last year's closing level of US$2073 a tonne.
The bank estimates that Chinese producers are significantly cash negative at the current price, and several Western producers will be struggling as well. There had also been a lack of demand strength from the global marketplace.
Tiwai is 80 per cent owned by Pacific Aluminium, the subsidiary of Rio Tinto the Anglo-Australian mining giant has up for sale.
- APNZ