Investors assess potential threat from Labour-Green plan to overhaul sector.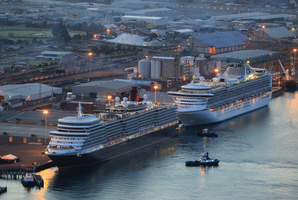 New Zealand shares fell as investors assessed the potential threat to power company earnings from a Labour Party-Green Party plan to overhaul the electricity sector if elected.
Contact Energy, TrustPower, Infratil and Vector all declined.
The NZX 50 fell 36.17 points, or 0.8 per cent, to 4442.1. Within the index, 38 stocks fell, nine rose and three were unchanged. Turnover was $127 million.
Contact, the biggest power company on the exchange, tumbled 4.6 per cent to $5.46. TrustPower declined 3.1 per cent to $7.56 while its 50.7 per cent owner, Infratil, fell 2.3 per cent to $2.33. Lines company Vector dropped 2.4 per cent to $2.88.
The plan announced by the two main opposition parties would see a return to a centrally planned electricity system, a single state-owned power buyer and the breakup of integrated generator-retailers, changes they say could wipe as much as $700 million from power company revenues.
"The impact of this is potentially larger than, say, the Tiwai Point closure," said William Curtayne, an analyst at Milford Asset Management.
OceanaGold, the operator of the Macraes gold field, fell 9.5 per cent to $2.09, the lowest in more than four years and extending its slump in the past three months to 34 per cent. Spot gold is trading near its lowest levels in more than two years.
New Zealand Oil & Gas fell 4.7 per cent to 82c as the price of crude oil fell, part of a broader decline in commodity prices amid concern global growth may be faltering.
Summerset Group was the biggest gainer, rising 2.1 per cent to $2.98 as investors were lured to the certainty of earnings growth in the retirement sector. Rival Ryman Healthcare held unchanged at $5.52, a record high. Metlifecare gained 0.3 per cent to $3.22.
Telecom gained 1.2 per cent to $2.485 and Chorus, the network company spun off in 2011, rose 2.6 per cent to $2.65. Fletcher Building fell 0.5 per cent to $8.44.
Nuplex Industries fell 4 per cent to $3.09. Port of Tauranga, the nation's busiest export port, rose 0.7 per cent to $15.35, a record close.
Fisher & Paykel Healthcare, which gets more than 50 per cent of its sales in US dollars, rose 1.2 per cent to $2.59.
- APNZ