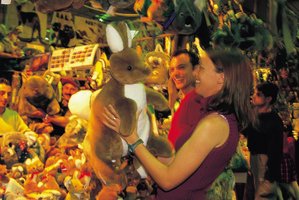 A surge in Visa card spending by Chinese visitors has helped offset a dip in overall spending by tourists here.
Caroline Ada, Visa country manager for New Zealand and South Pacific, said the growth mirrored the increase in visitor arrivals from China.
Analysis shows spending by Chinese tourists increased from $53.6 million in 2011 to $70.6 million last year, with people swiping or dipping their Visa cards here 305,930 times - up 36.5 per cent on the previous year.
Ada said the increase in spending on Visa came in spite of growing competition from Chinese credit card giant China Union Pay which was expanding throughout Asia and Australasia.
Some central Auckland ATMs offered China Union Pay services although Chinese tourists still used Visa cards for travelling overseas.
"Certainly domestically in China it is a very strong brand. The challenge they've [China Union] had for some time is the acceptance environment," she said.
Most of the spending by Chinese was on accommodation.
The figures show the top 10 source markets in 2012 for spending were Australia, United Kingdom, United States, Germany, France, China, Canada, Japan, South Korea and Singapore. These 10 countries alone accounted for 81.3 per cent of total inbound Visa card spend. Spending by Australians on Visa - the biggest card company in the market - slid 4.7 per cent to $595 million.
"We need to spend more time educating Australians on how fantastic New Zealand is," said Ada, an Australian who moved here six months ago.
Overall, international Visa account holders spent less here last year, with the total declining by 8.5 per cent to $1.85 billion, compared to $2.02 billion in 2011 when New Zealand hosted the Rugby World Cup.
Ada said it was difficult to assess the impact of the rapidly growing popularity of debit cards - which Visa also offers - on credit card spending. While credit card spending was still increasing, it was doing so at a slower rate than debit cards.
Ada said Visa spending by Kiwis overseas jumped last year, up 1.4 per cent to $1.97 billion in 2012.
"Our dollar is at an all-time high against some currencies, which can act as a deterrent for those planning to visit New Zealand," Ada said. "However, Kiwis are making the most of the opportunity to travel, spending more on Visa cards internationally and using their cards more frequently, with transactions growing by 5.5 per cent in the past year."
Australia again topped the list as the destination of choice for Kiwis to spend their holiday dollars. This was followed by the US, UK, Thailand and Fiji.
Visa card travel spending
In NZ in 2012 compared to 2011:
Australia: $595mdown 4.7 per cent
Britain: $289mdown 18.7 per cent
United States: $212mdown 3.2 per cent
By NZers overseas:
Australia: $780mup 2.1 per cent
US: $250mup 8.9 per cent
Britain: $140mdown 9.4 per cent.