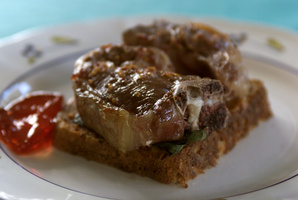 Organisers of a red meat industry meeting in Christchurch tomorrow are seeking a written mandate from farmers, including a commitment to a possible new entity.
Spokesman Blair Gallagher said the organising committee was taking it a step further from last month's meeting in Gore, where about 1000 farmers overwhelmingly supported a mandate for change in the sector.
They sought more commitment from farmers and wanted, in writing, who they were, whom they supplied, their number of stock units and a commitment to a possible new entity.
With that data in hand, pressure could be applied to get change in the industry, Mr Gallagher said.
The committee was getting "really positive" feedback about the gathering and he believed farmers were in a mood for change.
Speakers tomorrow include West Otago farmer and member of the Meat Industry Excellence Group's executive Fiona Hancox, who will outline the group's six key principles, discuss the next steps to be taken and outline different options for reform.
Massey University agribusiness professor Hamish Gow will look at other business models and their relevance to the meat industry and New Zealand Merino Company chief executive John Brakenridge will relate the redesign of the merino industry to the meat industry.
The Meat Industry Excellence Group's overall objective is to gain a national mandate from farmers for industry change.
Its six principles are: Up to 80 per cent of red meat processed and marketed by one "coalition of the willing" structure; identify and extract best personnel and strategies; contracting of stock to specification - need to commit to a company; legislation required to support new structure to be sought; all participants to fund restructuring; and suppliers to be treated fairly, equally and with full transparency.