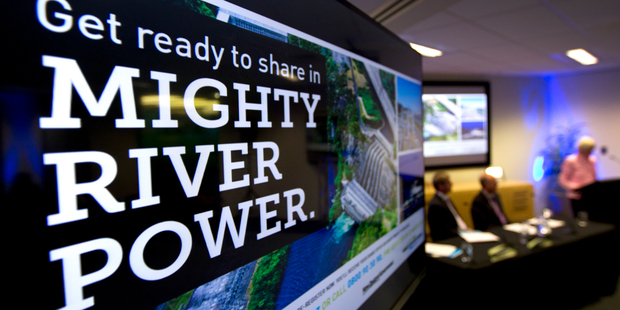 The Financial Markets Authority has given its tick of approval to the Mighty River share offer document, meaning next week's offer is set to proceed as planned.
In an announcement today, the FMA said it had completed its review of the document and was satisfied it contained the information potential investors needed to make an informed decision.
The offer document was registered last Friday, giving the FMA five working days to review it before the allocation of shares begins.
"The offer document is a significant source of information for anyone thinking of investing in a financial product, and while it's not FMA's role to endorse any offer, we are keen to work with issuers where we can," said Sean Hughes, head of the FMA.
Hughes said the FMA had engaged with Mighty River Power and the Crown well before the offer document was registered because of "the complex and significant nature of the listing".
"FMA, Mighty River Power and the Crown worked constructively to ensure that the key information, including particularly the investment statement and principal risks, was presented clearly," he said.
State-owned Enterprises Minister Tony Ryall welcomed the FMA's announcement and said it was important that potential investors took time to read the offer document.
"We know that for many New Zealanders, this may be the first time they have thought about buying shares, and great care has been taken to ensure the offer document sets out all of the information they need to know about the company to decide whether to buy shares in it," Ryall said.
The Mighty River Power share offer opens to the public this coming Monday April 15 and New Zealanders will have three weeks to apply for shares.
The offer closes on Friday May 3 and the company is expected to list on the NZX one week later.
About 440,000 people have pre-registered their interest in buying shares but it is yet to be seen how many of those will convert to actually making a purchase.
The Government has set a price range of $2.35 to $2.80 per share and has included a loyalty bonus scheme for the offer.
When the stock lists on the NZX on May 10, it is expected to have a market capitalisation of $3.29b -$3.92 billion, making it the fourth or fifth largest company on the exchange.
The FMA has published a list of Frequently Asked Questions for potential retail investors on the Mighty River Power share offer.