What's a former All Black, TV star and multimillionaire entrepreneur doing hosting a mainstream breakfast radio show? Marc Ellis tells Alan Perrott why he can't stand still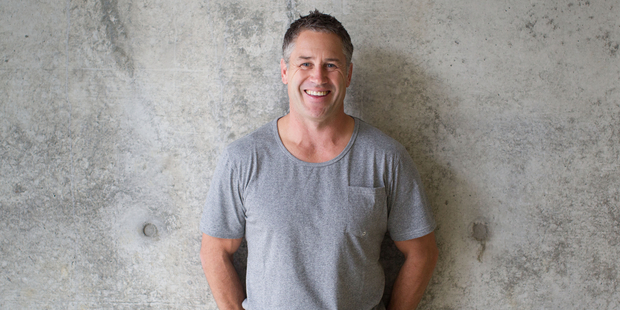 After dismissing the virtues of local craft beer - "it tastes like potpourri" - Marc Ellis hobbles off to find me a proper drop.
Asahi lager's the stuff, he reckons.
Hang on a minute. Asahi? Isn't that the brewery that paid you millions just two years ago for your slice of the Charlie's fruit juice action? "Yeah, but I liked it long before then ..."
Likely story.
Luckily there's none in the fridge - it's only 11.30am - but let's call him loyal all the same.
It's a trait that runs deep within Ellis. Whether working or relaxing, mates are his preferred company. Even the doctor who, days earlier, removed a bone spur from behind one of his knees (he's on crutches the day we meet) is an old friend.
As are the guys sharing his space on the fifth floor of Ironbank on Karangahape Rd. The sign says it's home to boutique production company Media Blanco that Ellis has run with business partner James McDonald since February 2011, but the pair offering occasional glances at their laptops in the corner are traders.
And what a space for indulging your mates. The pinball machines (Addams Family and Judge Dredd, as you're asking), screens and bare walls tell us they're about new modes of work and old forms of play. The two barely arranged plants flanking one of those bottles of room fragrance with sticks poking out says they've made an effort but don't give a toss - I wouldn't be surprised if they were there when they moved in.
Then there are the contents of the tea trolley in their glass-walled meeting room. Bottles of Grey Goose vodka, Tanqueray gin, and Talisker and Laphroaig single malts with crystal glasses suggest Fridays are very good days indeed.
This is what you get up to when somewhere in the region of $18 million gets popped into your bank account, and why not?
As Ellis says, if you can't laugh while you're working, you're doing it wrong.
Still, the question remains: why does this 41-year-old father of two, former All Black and television star even bother? And why, most of all, has he taken on the life-cramping early mornings of a breakfast radio show?
There have to be easier ways to keep your name out there and, considering his accumulated wealth, no one would begrudge him for swanning about the Caribbean with the family. And a couple of mates, no doubt.
Most would recognise that there has always been more to Ellis than his TV antics suggested. He's the first to admit that those antics - on shows such as Sports Cafe and Matthew and Marc's Rocky Road (with fellow rugby and league star Matthew Ridge) - sometimes had the depth of a coffee stain, but he insists they were (almost) always premeditated, even if his plan went no further than provoking those he considers too precious by half.
"I don't do anything without thinking first, never have. Well, within reason."
For instance, after being waved on by Victoria University, he sat his degree in marketing and management at Otago because the provincial rugby team down that way appeared to have an imminent vacancy at first-five.
Then, when he called time on his haphazard All Black career after the 1995 World Cup, he surprised everyone by switching to league and playing for the Warriors. It wasn't about any late-blooming passion for the code, even if he did do well enough to play five games for the Kiwis - the shift to Auckland meant he could take up an intern marketing position with KPMG. "The job turned out to be of a calibre that wasn't terribly stimulating, so I didn't last too long there."
He didn't last too long in the Warriors first team either, so he went back to rugby and in 1999 launched his big idea, Charlie's, with two old mates.
By then, Ellis was already part of the Sports Cafe team on Sky TV and his feisty on-screen personality meshed nicely with the pitch that went with their juice. It was a rare Charlie's promotion that wasn't referred to the Advertising Standards Authority.
"We were provocative, but that was because we had 110 per cent confidence in our product and what we were doing. We took our opportunities, like the Holmes show - they lost an advertiser after the cheeky darkie comment - so we jumped on board straight away ... we were never afraid to have a go. What was the worst that could happen? But it wasn't like we were swinging blindly, we planned everything to the nth degree so that it looked like a silly act by a bit of a larrikin."
So, how accurate is the image he has fostered?
"Well, it is and isn't," says Ellis. "I'm definitely an idiot on occasion, and it is useful, it always opens doors so we can get in and have meetings. But once you're in, if you don't make sense then it's a waste of everyone's time. If I'm on television I'm just playing a role. I'd like to think there's more to me than that."
We got an inkling of how these sides mesh when ructions broke out after he and some old university mates - naturally - announced their plan to build a cafe in Piha.
Where some saw a potential social hub others saw the opening volley of a commercial invasion, and a No Cafe campaign quickly formed around the formidable Sandra Coney. A media battle commenced.
"Look, it's not that I don't like her," says Ellis, "I don't like what she stands for ... Luddites like her judge their lives by what they stop rather than what they've started. When someone like that says 'no', that's a red rag to a bull."
For her part, Coney, now an Auckland City councillor, says she never met Ellis and dismissed their face-off as a media creation.
But the pair were in the same room at least once when the two sides met for mediation. They may have even chatted afterwards if Ellis hadn't walked out.
His team turned up with reports, numbers and plans in hope of debating facts and instead ended up being asked to resolve hypotheticals such as yet-to-be decided design elements.
Piha resident Bobbie Carroll, who was there as founder of the pro-cafe Yes Campaign and to cover the event for her Village Voice website, was standing next to Ellis when he gave up.
"We were standing at the back and I watched his face when he walked out. Out of the five guys trying to set that cafe up he had the least patience for ridiculousness, so I can understand why he left. The arguments were so minuscule, nit-picking and petty - in the end I think he decided he had more important things to do."
While Carroll believes Ellis went into mediation prepared to engage, she thinks his reaction revealed how he works: "What really annoys him is when he thinks he's being treated unfairly or unethically - I know I wouldn't ever like to cross him like that - and that was exactly what happened over the cafe."
She might be right, considering how a conversation about the early days of Charlie's turned into a rant against the Commerce Commission.
If Ellis was aggressive in marketing his juice he was even more so in protecting it, and he did all he could to prevent competitors from coat-tailing their branding as 100 per cent squeezed fruit.
Even now, he can rattle off every offending ingredient and claim employed by their competitors and positively bristles at what he sees as a lack of support from the commission.
Sure, fines were imposed when they won, but he says they were well below the improved market share the dishonest claims gained. "It was like mediation, a show, and I don't think that approach has ever achieved anything. Nothing happens."
Still, he appears to have enjoyed every moment. Much in the same way that he feels both sides of Piha's cafe war enjoyed butting heads, and in how he kept happily turning up to work as Charlie's posted losses in the early days.
"None of it was stressful, I've never seen the work as stress. If you get caught up in that sort of negative energy it will drag you down. It was a thrill, the whole process of developing a product, then putting together a marketing plan that turned it into something with an attitude, something people could have a tangible relationship with, and then ultimately watching people choose to pick it off the shelf."
And then having a huge Japanese corporation come along and buy your company for about $130 million? Surely that's something to shout about?
Nope. What we get is something about Asahi being "the right buyer at the right time" and that it was "the culmination of 12 years' hard work". Which is pretty much marketing speak for full credit to both teams, and juice was the winner on the day. Somehow I doubt he'd have been happy with such answers during his Sports Cafe days, but he goes on to attack the notion of wealth simply being a function of money.
"You're richer than others in what sense - that you aspire to climb over your friends and up the corporate ladder and then you'll be rich? Look at Maori and Pacific Island culture, where people do their utmost to keep extended family connections. Isn't that wealth?
People need to focus on the things that matter, when you draw your last breath are you going to give a toss how much money's in the bank?"
Which brings us to his new radio career, because his rationale for having a crack seems to involve a fear of becoming the lazy rich, and a degree of masochism.
"You can't stop. What would you do? Sit at home every day? It's about self-worth, being active and being involved. Too many mistakes come from having too much spare time, so I made a pact with myself that for the first year (following the Charlie's deal) I'd have no spare time at all. You can't deal out and disconnect and for me, if I wasn't busy, I'd be down. I need to have a next thing to go to, a range of things to do. I don't think I fit very well into a job description, so I try not to get into any. Instead I get into as many things as I can and enjoy them."
Breakfast radio is certainly punishing and he makes it clear he doesn't intend doing it forever. Then again he gets up at the very last second and doesn't stop to shower, so maybe that decision won't be his. But for now, it's a challenge that provides a live element he relishes, and if the female-skewed, lite-rock More FM seems an odd fit, he says "exactly".
"That's why I said yes. If I went to a station more down the lines I've plied before, it'd be too predictable. Now I'm talking to mums with two kids. It's a different crowd and I have to think before I speak, because the feedback is immediate. I don't like getting up at 5am, but I like the feeling of getting up at 5am for a whole week. I like punishing myself - like I can't enjoy a beer unless I think I deserve one."
It's not like he's in it for the fame, especially as he's stoked with how his family is going.
"I feel like I have got something pretty right there." He married fashion and jewellery designer Agustina Mon in 2006 and the couple have two young children.
It's probably fair to say Ellis' profile peaked in 2004 when he beat all comers in a downhill dash against 3kg of rolling double gloucester in the famous Gloucestershire Cheese Rolling event. Not even his record for tries in a test match (six) attracted as much international attention, although from his point of view, it was probably more important that he'd beaten his then-television offsider, Ridge.
But he doesn't seem to enjoy reflecting on past successes. Indeed, he immediately launched into a story of the race's aftermath instead.
After being given the cheese as his prize, he'd returned to their hotel where Mon decided to try it before dumping the wheel in a bin, where it slotted perfectly into the bottom. A few days later he got an irate call from the hotel complaining about the stink in their room and demanding soilage money.
Ellis suggested the hotel simply empty the bin and then forgot about the whole affair.
Okay, maybe you had to be there, but his animation during the telling contrasted starkly with his approach to anything to do with what might be called past glories.
"I've never bought into the image," he says. "If you like me, that's cool. If you don't, that's sweet too. I've found that for people with some longevity in the public eye, it's a particularly heinous environment. There are huge egos rolling around and people taking themselves far too seriously. Are you saving lives? If you start acting like you are and then talk about yourself as brand, then I know you're reading life the wrong way, you're a nobody.
"So I just want to keep busy, have a laugh doing it and keep moving forward. You can't afford to look back. Hopefully I can leave that 'til the end and enjoy a flashback of everything I've done. It should be a nice little kaleidoscope."
He'll probably invite some mates round to watch as well.