Fair-weather current affairs blend working for TV3 in 7pm slot but newcomer Seven Sharp is holding its own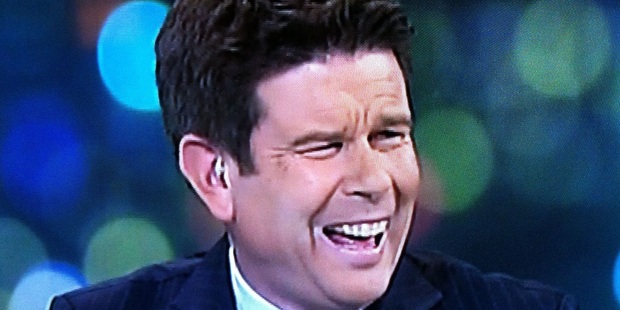 It has been a long hot summer but Campbell Live has been enjoying a much longer season in the sun.
Campbell's interview with former defence and intelligence supremo Sir Bruce Ferguson on Wednesday was the latest of many wins over the last year and more, and after eight years the show has found a current affairs sweet spot.
Alongside the light and bright fare, and traditional heart-warming yarns required for the 7pm timeslot, the show keeps an eye out for serious current affairs nuggets.
And when it sees them it digs deeper.
Some will dismiss the brouhaha over Key's shoulder tap of his childhood acquaintance Ian Fletcher to head the Government Communications Security Bureau.
They will say it is another case of the media raining on the PM's parade.
But Campbell's interview with Ferguson was an excellent "get".
Rather than offering the usual Labour versus National tarrying, it examined the views of a concerned respectable public servant and the reputation of the shoulder-shrugging PM.
It was a significant move from a retired civil servant who clearly placed a lot of trust in Campbell.
There has been a similar strong coverage of Solid Energy, the Dotcom saga, and Pike River - all involving some intense legwork from John Campbell himself.
Campbell Live's reporting crew of 12 are known for hard work, but how did they find the current sweet spot, where it breaks serious news stories while holding its own in the ratings?
"We've always had the raw material to be the show we are now," Campbell says. "To begin with a new show gets all the ... well intentioned ... advice to, 'Do this, do that'," he says.
"That is understandable. There is a lot of money invested in the show."
Eventually people stopped giving advice and in his mind the show took off after the February 2011 earthquake.
"We were away from advice and machinations of office [life] and we kind of made our own way ... we got our mojo."
Campbell's coverage of the Dotcom fiasco was fulsome. But it drew brickbats from some because it seemed unwilling to debate Dotcom's right to inhabit the moral high ground.
Campbell Live got around that by focusing on the extreme aspects of the raid and the breaches in political process. The Ferguson interview fits into the latter dynamic.
News hungry
Latterly TVNZ's decision to walk away from serious current affairs at 7pm has led to TV3 focusing on the genre, combined with a marketing campaign that on Campbell Live it was "Time for answers".
Once TV3's image was dominated by shows such as Outrageous Fortune and Seven Days but current affairs is now front and centre of the channel's brand.
"We are receiving the marketing back up at a time we are the truest to ourselves," Campbell says. "What the 7pm audience suffers from - and our audience suffers from in particular - is that it only has a finite appetite for news. We have to make sure we offer something different to the 6pm news."
The reality is that, like Paul Holmes and Paul Henry, Campbell polarises audiences. I find his style a little unctuous, but you can't argue with the journalism.
Settling down
Television New Zealand's 7pm show, Seven Sharp follows the same notion that audiences have a limited appetite for news, so avoids it.
It appears to have settled down in the ratings and to be holding its own against Campbell Live, albeit with a much lower lead than its predecessor, Close Up.
In March, Seven Sharp had a rating of 8.4 per cent for the audience aged over 5 years, compared to 10.2 per cent for Close Up in March last year, a fall of 17.6 per cent. Campbell Live has a rating of 7 per cent compared to 5.5 per cent, an increase of 27.3 per cent.
Seven Sharp seems to have resolved many of the issues about its format. The hope at TVNZ will be that having settled down, its show will pick up more viewers.
I am not being mean to TV One - whose news and current affairs team probably has as many talented individuals as TV3's does - but there is a serious lack of leadership.
Worse, there is no sign of any willingness to use the talented people they do have. Once more it is being run by an overseas import consultant, Michelle Romaine.
With Campbell Live offering strong journalism at 7pm, and Seven Sharp offering fluff, the solution to TVNZ might be to build up One News. There is no sign yet of a new head of news and current affairs capable of improving One News.
NZOA 'unhappy'
Taxpayer funding agency New Zealand On Air is "unhappy" after being told by the Herald that TVNZ has canned one of its funded shows, Global Radar, due to poor ratings.
The show - given $487,174 of public money - was cancelled after Wednesday night, five episodes into an eight-part series.
"It is the first we have heard of it. We'll [be] talking to the broadcaster in due course," said spokeswoman Gina Rogers.
TVNZ spokeswoman Megan Richards confirmed the cancellation was due to poor ratings and that the remaining episodes would be played later in the year.
Programmers said the last season of Global Radar, which played in August last year, performed better on Sunday nights.
Wednesday had 357,600 viewers and 20.1 per cent of the audience compared to the last series featuring Te Radar which had on average 635,900 viewers and a 33.2 per cent share.
Global Radar's share of the 25-54 year old demographic went from 25.9 per cent for series one to 12.1 per cent.
Choice
The independent channel Choice has done well out of Sky TV's re-numbering of channels.
Choice is also expecting more viewers from the decision to move from Channel 78 to 26 effective on May 1.
Sky TV chief executive John Fellet said that Choice - which is also on Freeview - was a typical example of the sort of channel that would be cable-only in other markets.
Sky's early decision to allow Choice on to its platform is a big boost for the channel, opening it up to the half of the country that has Sky.
Waiver wave
Complainants to the proposed News Media Standards Authority would not need to sign a waiver against further legal action as do complaints to the Press Council.
Under a Law Commission proposal for a new self-regulatory body, the Press Council would be incorporated into the proposed authority.
The Law Commission has rejected the current waiver.
Meanwhile, the government-appointed Broadcasting Standards Authority - which will continue to have a role administering complaints against broadcast entertainment, and some news standards - says some appeal function should apply to the NMSA.
The process to establish a new media standards regime is expected to be long, but media here have breathed a sigh of relief that the proposed regime would not have a significant effect on press freedom, as some believe will occur with proposed regulatory standards in the United Kingdom.