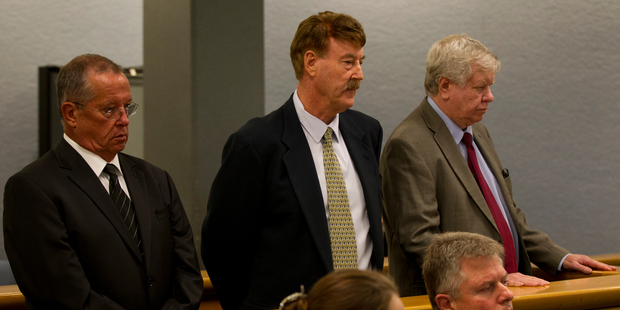 Today was the beginning of the end for the Capital + Merchant Finance prosecutions as one former director of the failed firm was handed an extra year in prison and two others sentenced to home detention and community work.
Former C+M chief executive Owen Tallentire and directors Robert Sutherland and Colin Ryan pleaded guilty earlier this year to two charges of making an untrue statement in a registered prospectus and one charge of distributing advertisements which included an untrue statement.
The untrue statements were included in two prospectuses - one in 2006 and the other in 2007 - and were about related-party lending, and loans being actively monitored when this was not happening.
The 2007 prospectus also said that none of C+M's loans were impaired when a number were.
In the High Court at Auckland this morning Justice Geoffrey Venning said it should have been clear to the directors that cashflow at the company was unsustainable from the middle of 2007.
After this time, the company went onto issue a prospectus and more advertisements - including one just days before the company collapsed that November owing $167 million to about 7500 investors.
Tallentire, 65, is already serving a sentence of five years' imprisonment for theft by a person in a special relationship charges in a C+M case brought by the Serious Fraud Office.
His lawyer Nathan Gedye said an uplift in sentence of no more than four to six months was appropriate and would still push Tallentire's "distant release date" further out.
Given he was in prison and unable to work, Tallentire could not offer any reparations, Gedye said.
However, Justice Venning gave Tallentire an extra year in jail - the sentence which Crown lawyer Nicholas Davidson QC had pushed for.
Justice Venning said Tallentire was in a different position to Ryan and Sutherland and must have known certain statements were false.
While these two directors had an honest belief that the untrue statements were correct, the judge said this belief was not reasonably held and characterised their offending as close to gross-negligence.
In sentencing the two men, he took into account their previous good character, guilty pleas, remorse and the fact they could pay reparations.
Ryan was sentenced to 7 months' home detention, 300 hours of community work and ordered to pay $100,000 reparations while Sutherland was handed 6 months' home detention, 300 hours of community work and to pay $60,000.
The men's lawyer, David Jones, QC, said both were first offenders and now in a "difficult position given their unblemished records".
Given their history of service and performance, Davidson said it was astonishing and sad that the men should be before the court.
A 66-year-old Brisbane-based man and a member of the Order of Australia, Ryan came to the court today with "glowing references" from people of standing in the community, Justice Venning said.
He had been involved with a children's hospital in Brisbane since 1983 and had helped set up the Queensland Children's Medical Research Institute.
Justice Venning described Ryan, who had been deputy chairman of Port of Brisbane and Brisbane Airport board, as a "very experienced businessman".
Ryan's Capital + Merchant directorship had been his only one in New Zealand.
The man also had a life-threatening medical condition - which was not disclosed - and the judge said this should be taken into account in sentencing.
Justice Venning acknowledged that home detention would more difficult for Ryan, who as an Australian citizen had no relatives or close friends living in New Zealand, but said:
"You must serve a sentence of home detention in New Zealand. Your offending has affected a number of citizens in New Zealand."
Describing the fallout from the C+M collapse, Venning read out snippets from victim impact statements.
These described the trauma and depression experienced by investors who lost savings in the collapse.
"I will never recover financially, physically and emotionally," one statement said.
Sutherland's culpability was slightly less than Ryan's, Venning said.
Sutherland, 65, was born in New Zealand but since moved to Australia has held more than 20 directorships of companies in the New Zealand, the United States and Australia.
Today's sentencing was the beginning of the end for the Capital + Merchant prosecutions, Davidson told the court.
Still to be dealt with on the FMA charges are the founding directors of C+M, Wayne Douglas and Neal Nicholls. Both men have pleaded guilty to charges for misleading investors but have not yet been sentenced.
In the SFO case, they were both jailed for seven and a half years, the longest sentences given to failed finance company bosses to date.
However, the men are trying to take their case to the Supreme Court to overturn their convictions.
If the case goes that far, it will be the first time a criminal case involving former finance company directors has reached the country's highest court.