Companies pick middle-of-year spike for currency helping importers but hurting exporters.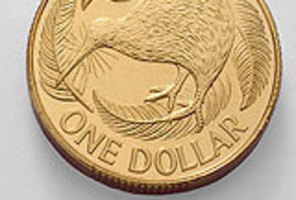 Businesses expect the New Zealand dollar to peak around the middle of the year before declining, according to an ASB Bank survey.
But many analysts expect it to keep rising before pulling back some time in 2014.
The ASB's Kiwi dollar barometer showed businesses expect the dollar to peak at US86.90c in June before easing to US82.90c by March 2014.
ASB economists expect a similar peak at US86c, but they do not expect it to occur until March 2014.
A high NZ dollar tends to benefit importers because it reduces their costs in NZ dollar terms, but is detrimental to exporters because it reduces their local currency returns.
Reserve Bank Governor Graeme Wheeler has come under intense political pressure to alleviate the strain the strong currency has exerted on the export sector. In a keynote speech in February, Wheeler said the New Zealand dollar was "significantly overvalued" and that the bank stood ready to intervene in the currency "when circumstances are right".
The survey showed importers, on average, expected the NZ dollar to peak at US87.20c in June, before easing steadily over the year to reach US83.7c by March next year, ASB said.
Exporters also expected the NZ dollar to peak in June, but at a slightly lower level of US86.40c.
From there, exporters expected the currency to steadily decline over the year to reach US82.10c by March next year, ASB said.
The New Zealand dollar hit US85.35c in February but has since dropped to around US82.4c. At current levels, the currency is well short of its record post-float high of US88.43c, set in August of 2011.
Bank of New Zealand economist Doug Steel said he expected the Kiwi to remain well-bid throughout the year.
He said drought conditions throughout much of the country are expected to take the gloss off economic growth, but increased activity is expected to come from construction and the non-food manufacturing sector connected to the construction sector.
But Steel said it would not be long before international investors once again started to focus on what is expected to be a widening New Zealand balance of payments current account deficit.
For the year ended September 2012, the deficit was 4.7 per cent of gross domestic product. "Eventually, that will get on the radar screens of investors," Steel said.
The Bank of New Zealand expects the currency peak at US87c in the fourth quarter but for it to drop back to US76c by the end of next year.
Imre Speizer, senior market strategist at Westpac, expects the currency to hit US86c this year, and for it to possibly threaten its record high of US88.40c.
Speizer said the upward pressure would soon go on US interest rates, and the US dollar, once the Federal Reserve came close to exiting its economic stimulus programmes. He expected the Australian and New Zealand dollars to hold their ground against a stronger US dollar.
- APNZ