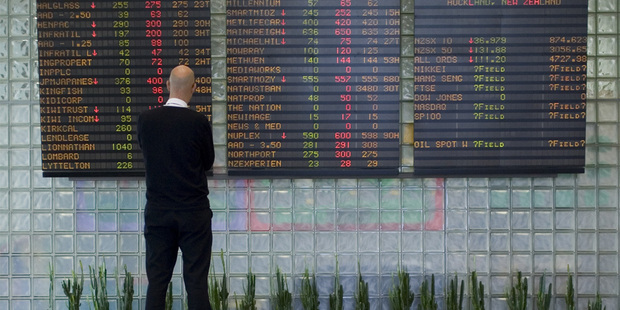 NZX, the stock exchange operator, posted a 32 per cent decline in full-year profit as one-time costs contributed to expenses growing faster than sales.
Profit fell to $9.86 million, or 3.69 cents a share, in calendar 2012, from $14.5 million, or 5.64 cents, a year earlier, the Wellington-based company said in a statement. Sales rose 2.3 per cent to $55.99 million, while expenses climbed 15 per cent to $34 million.
Investors have been upbeat about the outlook for NZX, with the prospect of big new listings such as Mighty River Power and steadily increasing trading volumes through its cash markets. Yet NZX was relatively downbeat about the outlook, saying the extent to which a strong IPO pipeline translates into actual listings is "highly dependent on market conditions" while costs will rise.
It gave no explicit guidance for 2013, while noting that trading has started strongly, with the value of trade in January up 60 per cent on a year earlier.
See the NZX's investor presentation here.
The smallest of its three operating units, infrastructure, recorded the biggest revenue gain in 2012, rising 9.8 per cent to $13.7 million. Infrastructure is the clearing and settlement platforms for securities and the operation of private markets, such as the
Electricity Authority contracts and Fonterra Shareholders' Market.
Information sales rose 1.8 per cent to $21.3 million, of which its Agri division made up 58 per cent and securities market information 42 per cent.
Agricultural data and information lifted sales by 3 per cent to $12.3 million "on the back of continued solid performance by its market-leading publications." Securities information sales fell 1 percent to $9 million, reflecting the strong kiwi dollar and a reduction in capital market spending globally, it said.
Revenue from markets, which includes cash equities, bonds, derivatives and spot commodities, fell 1.4 per cent to $21 million, in what it said was a disappointing year for new capital raising, offset by growth in trading activity , and trading in commodities and dairy derivatives.
Costs included chief executive transition, litigation expense for Ralec and other one-time items amounting to $1.3 million. It also recognised a $1.5 million foreign exchange loss on the sale of its Markit investment.
NZX will pay a final dividend of 1.25 cents a share, making 2.5 cents for the year. The record date is March 8 and the payment date March 22.
Shares of NZX last traded at $1.30 and have gained 7.4 per cent this year. The stock is rated a 'hold' based on three analysts polled by Reuters.