The 40 per cent File: Celebrating our exporters in their quest to boost New Zealand's exports from 30 per cent to 40 per cent of GDP by 2025.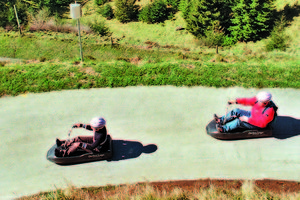 It's an ambitious goal but many of our export champions are growing rapidly, with some increasing sales by 30 per cent year-on-year.
Our largely small and medium-scale businesses are the key to driving the export growth we need to sustain employment and our communities.
Over summer the 40 per cent File will highlight the huge variety of Kiwi ingenuity, innovation and export success - just a snapshot of the amazing stories coming from New Zealand exporters.
Neat Feat Products
Neat Feat Products, which specialises in high-performance foot and body care toiletries, recently secured a $2 million order from CVS, the second-largest US pharmacy chain after Walgreens, for its Neat Feat Zori line of orthotic sandal.
The Zori will be rolled out in 3000 stores in the US. CVS is aiming for $10 million of sales in its next financial year and is taking several more of the firm's toiletry lines made in New Zealand.
Last year Neat Feat won listings for several of its products in 2880 Walmart stores.
Pacific Aerospace
Hamilton aircraft manufacturer Pacific Aerospace has been awarded certification so its P-750 XSTOL aircraft can now operate as an "airliner" for scheduled passenger operations. This will broaden the market to carriers operating in and out of smaller airstrips and airports worldwide. The first customer, Island Hoppers in Fiji, is operating two P-750s.
Last July the company won certification for a new wing which doubled the P-750's range. It also announced a partnership with Xi'an Yanliang National Aviation Hi-tech Industrial Base (CAIB) in a deal that included sales of 15 P-750s to be delivered to China in the next three years. Pacific Aerospace is also close to gaining type acceptance of the P-750 XSTOL in Russia with Aeroproject 751 to have exclusive representation there in a deal that also includes the purchase of 24 P-750s to be delivered over the next five years.
Made In New Zealand
Ian Robertson of Made in New Zealand has been exporting to Russia for many years and this year has broken into Kazakhstan with US$2 million ($2.35 million) in sales over the past three months.
rml Engineering
Automation specialist rml Engineering racked up export sales exceeding $6 million last year. And it has just developed an in-house packing robot it callsthe Hawk designed to transferproducts into cases.
The Hawk, which was developed in association with Waikato University engineering graduates, offers increased flexibility, speed and payloads over traditional methods. It has been deployed on six case packers including three for dairy packing machines in Australia. Two orders there were also for case packers for sugar.
Skyline Enterprises
The Skyline Luge invented in Rotorua in 1985 has been successfully exported to Mt Tremblant in Canada in 2003 and to Sentosa Island, Singapore, in 2005.
A further Skyline Luge is due to open in Calgary, Canada soon, and another major development is under way for the gravity-fuelled adventure in South Korea. An agreement has been signed with Tongyeong City valued at more than $13 million. A 1.5km luge track will be constructed on a 16.4ha site.
Export Tip
Exporters need to know the terms used in international trade which are published in ICC Rules for the Use of Domestic and International Trade Terms. These are sometimes referred to as the Incoterms. Exporters should get the latest edition (January 1, 2011) and read it.
It is invaluable for exporters, importers, banks, insurers, shipping companies, freight forwarders, customs agents and government agencies. It describes the tasks, costs and risks in delivering goods from sellers to buyers using three-letter acronyms for each term, such as FOB (free on board), CFR (cost and freight). They are not obligatory but do mean all parties to the contract are fully aware of their responsibilities and where the ownership, and cost and risk transfers from seller to buyer.
• For more export success stories go to www.facebook.com/hookedonexport.
• If you have racked up exciting recent wins internationally and want to share them please email: catherine@exportnz.org.nz