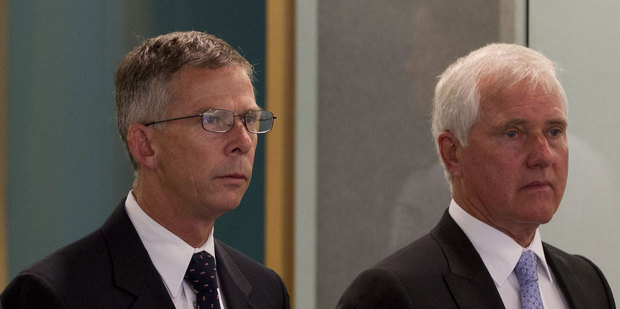 A High Court judge has stepped down from hearing the case of three men associated with the collapsed firm Dominion Finance after she revealed she was a partner at a law firm at the same time as one of the defendants.
In a ruling this morning Justice Pamela Andrews - who had been hearing the trial for one and a half days - said she could not continue to try the case.
This came after disclosures from the judge yesterday that Dominion Finance director Robert Barry Whale and Justice Andrews were both partners of top-shelf law firm Kensington Swan at the same time.
After the judge informed the courtroom of this, John Billington - the QC of accused Dominion Finance chief executive Paul Cropp - made an application that a mistrial be declared or Justice Andrews recuse herself from hearing the case on the grounds of apparent bias.
Whale was a partner of the firm in Auckland between 1996 and 2001, while Justice Andrews became a partner of Kensington Swan in 1988 and a consultant from 2002 operating out of Wellington.
"From a 'public perception point of view' the fact remains that Your Honour is sitting on judgement on a person in respect of whom you had a partnership relationship and whose interests are in conflict with the Crown and his co-defendants," Billington submitted to the judge.
"A partnership is a legal relationship based on trust and fidelity," he said.
Billington was supported in this application by Mike Lloyd, a lawyer for an accused Dominion Finance executive who has name suppression.
This morning Justice Andrews said she had no recollection of Whale as a partner at the firm and had no personal connection with him.
"I had (and continue to have) no recollection of Mr Whale as a partner. I certainly do not recall having had any personal dealings with him. I record that at no stage has this matter been raised by any of the accused or their counsel," Justice Andrews ruled.
The issue was only raised with the judge yesterday and was confirmed after she checked with Kensington Swan during the court's lunch break.
While she heard submissions from lawyers this morning, Justice Andrews started off by saying she made a "firm decision" after reflecting on the matter overnight.
"I have concluded that I should take a cautious approach. Notwithstanding that the legal partnership ceased in 2001. Any legal partnership requires between the parties trust and good faith. For that reason I have concluded that I should not continue to try the case. A fair-minded lay observer might well have concerns as to whether a judge could bring an impartial mind to resolving the issues of credibility in respect of a formal legal partner of the judge," Justice Andrews ruled this morning.
"I have no doubt that, had I recalled the partnership when I was assigned to this trial, I would have declined to try the case for reasons I have [already set out]. I am satisfied my approach should not differ, now that the trial has begun," she ruled.
The judge made an order for a new trial, which is now due to begin next Monday in the High Court at Auckland in front of Justice Graham Lang.
Justice Lang was "confident" that no conflict issues arise in his trying the case, Justice Andrews said.
The application to declare a mistrial or for the judge to recuse herself was opposed by Whale's QC, Paul Davison, and the Crown.
Crown lawyer Brian Dickey submitted this morning: "The Crown maintains its submission that the court should continue to hear the case," Dickey submitted.
Dickey put forward that the judge could not recall Whale and had not had "any engagement with him for more than twelve years".
"Any concern as to bias by the lay observer would be ill informed or irrational," he submitted.
The three accused in the trial have pleaded not guilty to theft by a person with a special relationship.
According to Serious Fraud Office, which is bringing the case, the men entered into a number of related-party transactions and knowingly breached requirements of the debenture trust deeds of Dominion Finance and sister company North South Finance.