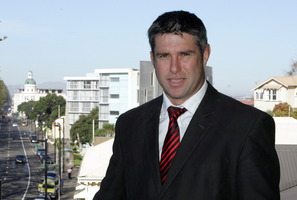 Prominent Hawkes Bay real estate agency owner Simon Tremain has vowed to appeal a decision by the Real Estate Agents Authority of "unsatisfactory conduct" relating to the sale of his family's bach at Waipatiki.
The couple who made the complaint to the authority are also appealing.
Hamilton couple Gavin and Jenny Burgess bought the Waipatiki bach in December 2009 for $355,000 but complained to the authority, upset about a leaking garage.
The decision has not yet been released by the authority but Hawke's Bay Today understands the reasons for the "unsatisfactory conduct" finding were: non-disclosure of an unpermitted deck, a studio not permitted for rental accommodation (when Tremain had assured them it was lettable) and a leaking garage.
At first Tremain, of Tremain Real Estate, accepted the decision, saying he could have done better, but he has since changed his mind.
"I have done nothing wrong," he said.
"I have not intentionally misled anyone and yes, maybe I could have been more thorough with my research of the property but seriously consider this: "We lived in the property as a family for 20 years. We had no issues with the property at all - it was a Kiwi bach and simply that - not that well built or constructed and very small but set beautifully in native New Zealand bush - lots of bird life and lots of privacy. This is what we were selling.
"No agent would have considered examining the council files to find what purchasers find out in a LIM report. No agent would have thought the studio would have a clause attached to it from the 1965 permit that said: 'For family occupation only'.
Tremain said anyone would have assumed the full property could be rented out.
"That is what I assumed. I was wrong although I know the property would still rent out today at the rates quoted without the studio as accommodation. Have the purchasers ever tried to rent the property out? No.
"The purchasers thoroughly inspected the bach and had a number of general maintenance issues they identified that they wanted fixed.
"They also asked for a LIM in the contract. The LIM showed that the original bach was without decks and the studio has the funny clause 'family accommodation' attached to it."
Tremaine said the downstairs room of the studio was a garage that had moisture coming through the concrete floor.
"We used roll-up mats not carpet and this was discussed and obvious. I especially put a clause in the contract regarding the fact that this was permitted as a garage not as sleeping accommodation and also wrote an email advising the purchasers of this.
The fact the moisture has got worse can happen - Waipatiki does get some weather bombs from time to time.
"My wife, who is a general practitioner, and I had our babies sleep in carry cots on the floor in these rooms."
Tremaine said he was not "falling on my sword".
"I will be fighting this decision by the REAA who were not given all the facts. I initially felt that I could have done better. I do not think this now. Even if I was listing the property today or any other agent was they would not pick up the family accommodation clause on the studio or the non-permitted decks. Agents do tend to go and check the council files more these days and some agents do get LIM reports on properties before they market, but not many.
"I do not believe in caveat emptor, which simply means let the buyer beware, as the world has changed and disclosure of all key facts is essential. However the buyers need to take some responsibility.
"I feel I am an easy target and I had thought, 'lie low, take it on the chin and move on'. But I am not going to, because I have done nothing wrong.
The facts are not clear and this is why I will appeal this decision."
Jenny Burgess said they were appealing the authority decision because "we don't feel justice has been served".
"We've lost quite a bit of money - we have lost an income," she said. "I don't know what I'm expecting from the appeal - I'm just going with my gut feeling. There is some sort of moral obligation here really.
"We just want to be heard, not ignored."
Their stoush has not stopped the business couple from enjoying their Waipatiki bach.
"It's heaven on earth," Gavin Burgess said.
For more articles from this region, go to Hawkes Bay Today