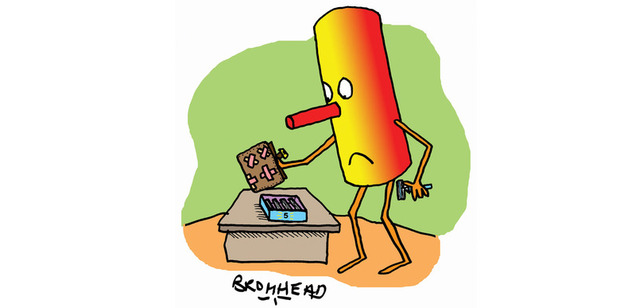 "You forgot to pack your razor," a text from home reminded me as I arrived at a distant airport.
"Good," I smugly thought. "A chance to buy one of those fancy multi-blade razors with the promise of a new soothing experience in shaving - according to the latest marketing hype."
For years, I've been apprehensive about upgrading my razor from a single blade to a multiple-cutting gadget, on the premise that it's bad enough nicking my chin once, never mind repeating such slips with five cutting edges layered like venetian blinds.
Throwing caution to the winds, I purchased an enormous sealed package containing the latest and greatest from a nearby supermarket.
The plastic bubble-wrapped container appeared to have been sealed with the same zeal as goes into securing a lead coffin.
After several frustrating fingernail-breaking moments, I finally exposed the contents, to find that the jumbo packaging contained only one paltry spare blade with the razor.
Once again I've been duped by American sleight-of-hand marketing. No wonder dissidents in distant lands burn the Stars and Stripes and grow beards in protest.
Of course, once you own the razor holder, you feel obliged to trail back to the supermarket to buy the essential spare blades.
Cynically, one should be congratulating the industry - not only for advancing the art of shaving by cleverly reducing the problem of habitually cutting one's chin, thanks to design innovation, but also for the fact that it has skilfully managed to transfer the nicking process from the purchaser's face to his wallet.
I recently bought spare blades for something outrageously close to $30. The sealed packet had a big "5" on the front, suggesting I was buying five units. But the sealed container held only four replacements.
The "5" apparently referred only to the number of blades, suggesting another slightly tricky marketing ploy to deceive the consumer.
I'm only glad my grandfather isn't alive to witness my dumb toiletry purchases.
He got through his whole life with one cutthroat razor and a leather stropping strap. He lathered up his whiskers with a block of cheap Sunlight laundry soap and finished the procedure by patting his face with a cold, wet flannel.
If he witnessed what I spend on the same procedure today, including pre-shave gels, scrubs and poncy after-shave lotions, I suspect he'd be saying in a broad North England accent: "What's wrong with you, you daft bugger?"