Vote for 26pc lift to A$1m secured despite criticism from investors and workers' union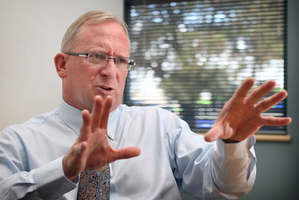 Nuplex Industries has secured an increase in its non-executive directors' fee pool, despite facing criticism on the motion from shareholders at its annual meeting yesterday.
Investors and unions have spoken out against the 26 per cent lift in the fee pool, from NZ$1 million to A$1 million, which comes as the resin manufacturer plans to shut plants on both sides of the Tasman and lay off around 10 per cent of its Australasian workforce to save costs.
Shareholders Association chairman John Hawkins said at the meeting yesterday that although Nuplex had not increased the fee pool since 2007, individual directors were still being awarded large pay rises with the money available and committee fees had lifted by up to 33 per cent.
"At the same time the company's performance has gone backwards in real terms, even allowing for exchange rate movements," he said. "Plants are being shut, people are being thrown out of work, but still the gravy train moves on at board level."
Hawkins' statement that the association would be voting its proxies against the motion to boost the fee pool was met with applause from shareholders.
Former Nuplex chairman Fred Holland, who remains an investor in the firm, spoke in favour of the fee pool increase.
"... you won't get anything but monkeys if you pay peanuts."
Chairman Rob Aitken said the increase in the fee pool would give Nuplex the "head room" it needed to add a new director and provide for overlap when existing board members retired.
After the meeting Nuplex chief executive Emery Severin said the plant closures and increase in the fee pool were two separate issues.
"It's regrettable, clearly, that there are lay-offs involved with streamlining the operations in Australia and New Zealand," he said.
The motion to increase the fee pool initially appeared to have been voted down on a show of hands at the meeting, but was then approved on a poll. About 64 per cent of votes were in favour of the increase.
First Union general secretary Robert Reid said the fee pool increase was inappropriate when so many Nuplex workers were facing redundancy.
"We were astounded that Nuplex would be proposing such a move at a time when they are laying off staff - it shows a complete lack of judgment," Reid said. "We had hoped that shareholders would have similarly seen sense to vote down the increase, as the Shareholders Association and others had called for."
Nuplex said earnings before interest, tax, depreciation and amortisation (ebitda) in the 2013 financial year were expected to be between $135 and $150 million, which would be an increase of up to 14 per cent to the prior year.
Shares closed down 9c at $2.93.