Bunnings and Mitre 10 hardware chains notch up record returns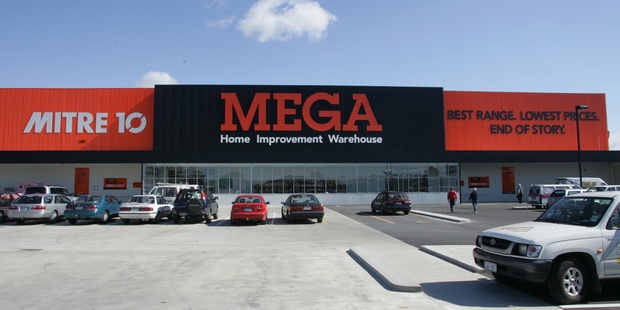 The country's two biggest DIY and hardware chains have just notched up record profits as the national appetite for home improvement grows.
Mitre 10 yesterday announced an all-time annual sales high of $858.37 million for the year to June 30, up 6.5 per cent on the previous year's $805.47 million and the highest in the company's 38-year history.
Bunnings, headed here by Jacqui Coombes and owned by ASX-listed Wesfarmers, recorded revenue from its operations here and in Australia from its home improvement and office supply business of A$8.6 billion ($10.9 billion) in the June 30 period, up on the previous A$8.2 billion.
Total store sales were up 5.9 per cent, commercial sales up 6.9 per cent and sales growth for the current 2013 year is forecast.
Martin Dippie, Mitre 10's chairman, said the New Zealand-owned and operated co-operative had "topped its rivals and was the number one hardware chain by revenue" and although the economy was slow, the appetite for DIY was powering on as the hardware and gardening supply chain recorded its strongest result.
Chief executive John Hartmann said Mitre 10 was focused on expanding its Mega store format and refreshing its look, product and service offerings in all stores.
Bunnings claimed to be "the leading retailer of home improvement and outdoor living products in Australia and New Zealand" and said it was a major supplier to project builders, commercial tradespeople and the housing industry.
The chain had 206 warehouses, 58 smaller format stores and 36 trade centres operating on both sides of the Tasman at June 30 and is investing to improve its offering. Thirteen new Bunnings Warehouse stores, one smaller format Bunnings and two new trade centres opened in the year.
Mitre 10's Hartmann said stores were growing and being done up.
"It may seem counter-intuitive to the environment we're operating in but our programme of expansion, reinvestment and refreshing the stores and product lines is proving to be a very strong formula for success for our members," he said.
"That programme is powering ahead with a target of 44 Mega stores by 2015 and 85 per cent of our near 100 stores new or refreshed over the same time period."
Mitre 10 will open its 33rd and 34th Mega stores by the end of this calendar year and has opened new stores in the past two months at Hornby in Christchurch and Rotorua.
The first quarter of the June 30, 2013, year was strong, with sales up 9 per cent on a same-store basis. Mega stores were up 15 per cent, Hartmann said.
Bunnings issued a chipper outlook for 2013. "The business is well-positioned for continued sales growth, through increased service levels, category development, network expansion and reinvestment, an improved light and heavy commercial offer, and the continued investment of productivity gains in lower prices to drive volume," the annual report said.
Bunnings arrived in New Zealand in 2001 through the acquisition of Benchmark Building Supplies and has invested more than $500 million since. Coombes said this year that as chief executive she aimed to build respect and trust for Bunnings.
"It's about building a team."
This story has been changed from an earlier version, which referred to June quarter same-store sales up 90 per cent at Mitre 10. The correct figure was 9 per cent.