Firm seeks overseas investor for Spring Creek mine amid plans to ditch 25 per cent of staff.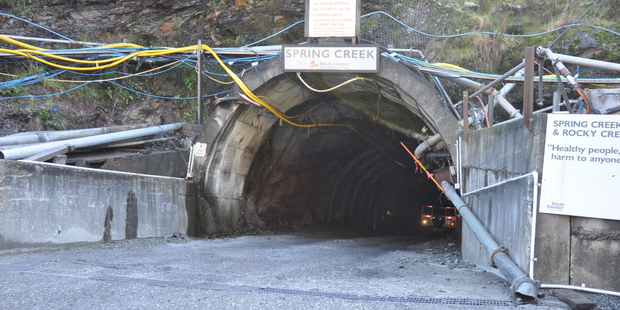 Miners from the West Coast and Huntly who are set to lose their jobs, will converge on parliament today.
More than 400 workers are facing the axe at the Spring Creek and Huntly East mines.
They'll head to the steps of the Beehive today, insisting the fight to save their livelihoods isn't over.
Labour leader David Shearer says he'll be there to greet them, saying the workers and unions have worked hard to come up with a plan.
"They have done some good work in trying to put together some figures, looking at some issues that could make this profitable. They've identified a million tonnes of coal for example that's very easily accessible that they could take out tomorrow.''
Company looks abroad
Solid Energy is looking overseas for an investor for potential new development at its loss-making Spring Creek mine as it moves to cut its workforce by 25 per cent amid a worsening financial position.
New chairman Mark Ford said the state-owned enterprise would know more about talks with possible overseas partners for the underground mine on the West Coast within the next "several" months.
"I think we're talking to many companies both in Australia and in Asia but how real that is I can't tell you at the moment."
Solid Energy has also approached banks to have covenants relaxed as it heads for a $200 million revenue shortfall in the current financial year.
Up to 440 jobs could go on the Coast, at the company's Huntly East mine and among corporate staff, mainly in Christchurch. Restructuring costs will be between $15 million and $20 million.
Spring Creek has lost more than $100 million since it was set up in 2007 and in the past nine months minimal coal production has cost $50 million.
It is estimated it could cost $70 million to return the mine to full production.
Solid plans to keep the mine in "care and maintenance" until its long-term future is determined. This could include restarting the mine, selling or closing it.
Spring Creek's semisoft coking coal is used in steel production, mainly in Asia, and Ford said the international price would need to be $180 to $200 a tonne to deliver a profit. Prices have plummeted since mid-year as demand for steel dropped and he said it was now about $120 a tonne.
The company will concentrate on less costly open-cast operations and underground coal gasification for deep coal and lignite conversion.
Its debt-gearing ratio had been set at 50 per cent but about mid-year it negotiated a relaxation of this to 60 per cent as it battles through financial difficulties.
Yesterday's announcement comes despite reporting better underlying earnings for the past year at its annual results late last month.
Since then global prices have remained low while the New Zealand dollar remained stubbornly high.
Underlying earnings - excluding writedowns - were $100 million, up 16 per cent on the year before, but the writedowns dragged Solid Energy's net profit after tax down to a $40 million loss.
Ford said the company's entire coal production operations were under review.