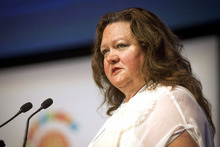 Critics of Gina Rinehart, Australia's richest woman, were lining up yesterday to condemn advice that she gave on how to become a millionaire.
In her regular column in Australian Resources and Investment magazine, she writes that those who are jealous of the wealthy should start working harder and cut down on drinking, smoking and socialising.
Rinehart says it is billionaires like herself who are doing more than anyone to help the poor by investing their money and creating jobs.
"There is no monopoly on becoming a millionaire," Rinehart wrote.
"If you're jealous of those with more money, don't just sit there and complain.
"Do something to make more money yourself - spend less time drinking or smoking and socialising, and more time working.
"Become one of those people who work hard, invest and build, and at the same time create employment and opportunities for others."
She also suggested the Government should lower the minimum wage of $606.40 a week and cut taxes to stimulate employment and also writes that her "great friend Michael Kailis" started his crayfish empire using prisoners from a local jail as labour.
She says that would probably be against regulations today.
Several critics pointed out that Rinehart was not a self-made millionaire.
Federal crossbencher Bob Katter says Rinehart's advice left out the bit about "daddy being a major cattle station owner and the biggest mining magnate in Australia".
"That helps as well," he told reporters in Cairns, agreeing that billionaires were out of touch with ordinary Australians.
Katter said Rinehart has been given the go-ahead by state and federal governments to bring in thousands of foreign workers.
Treasurer Wayne Swan did his best to hang Rinehart's comments around the neck of Opposition Leader Tony Abbott.
He said Rinehart's comments were an insult to the millions of Australian workers who slog it out to feed the kids and pay the bills.
"[Opposition Leader] Tony Abbott is Gina's knight in shining armour when it comes to fighting for tax cuts for her and Clive Palmer.
"The question for Tony Abbott today is, does he agree with Gina Rinehart that Aussies are lazy workers who drink and socialise too much?"
Abbott yesterday had yet to respond publicly to Rinehart's remarks.
Former Prime Minister Kevin Rudd chimed in.
"I think this view of hers is just plain wrong and life's more complex than that," he said.
Rinehart should try living on the minimum wage before calling for it to be cut, federal Health Minister Tanya Plibersek said.
Australian Greens Senator Lee Rhiannon told Channel Seven she respected success but Rinehart was not self-made.
"She's accumulated wealth from her family."
COMMENTS 'TWISTED LOGIC'
Building union chief Tony Maher said Rinehart's comments showed why Australia's mining billionaires should not lead Australia's economic debate.
The Construction Forestry Mining and Energy Union national president said that Rinehart's comments revealed her "twisted logic".
"At the same time as trying to import cheap foreign labour and avoid paying tax, Rinehart claims it's millionaires and billionaires who are the greatest for social good.
"What planet is she living on?"
Maher said Rinehart was born into a mining fortune and once you had such a fortune it wasn't hard to build on it, especially in an era of record prices for Australian resources.
- AAP