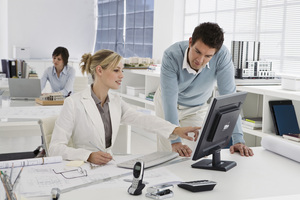 Designing flexibility into a workplace can pay off, writes Helen Frances
Yes sir, no sir, three bags full, sir!
Three weeks and several meetings and memos later the communication is waiting on yet another manager's meeting agenda. Possibly an exaggeration in these more streamlined times, but still likely in the traditional workplace model which, says Andrew Mawson, managing director of Advanced Workplace Associates, "is becoming inflexible and less effective in helping businesses remain efficient and innovative".
What he proposes is a more flexible or kinetic approach where power is shared between employees and the focus is on the relationship between workers, managers and the office infrastructure. Traditional, hierarchical structures, he says, are founded on the command and control model of the military - "the idea that I tell you what to do, you tell your people and they tell their people. It's founded on the idea that I can't really communicate in any sensible way with all the people."
Communication is slow up and down the hierarchy, and between divisions or silos that develop their own power base.
"When people work across silos they almost do it as a favour to help their mates out. That provides a challenge for organisations because more and more things we do involve a number of different people from different parts of an organisation."
The traditional model is also based on the notion of presence - ie, people working together in one building. When employees work in more flexible ways, from home or other mobile bases using electronic technology and social networking, hiring meeting rooms as required, infrastructure costs are significantly reduced.
So, too, is the drive to advance up a corporate ladder, when people are likely to put personal advancement ahead of the organisation's interests.
While more organisations have flatter structures, work in teams and allow employees a degree of flexible work time, a kinetic approach goes even further.
That, however, does not mean chaos. Mawson says they recognise people need structure and a sense of where they fit into a bigger whole. A molecular arrangement seems to work where people are respected and have power associated with their knowledge and worth within an organisation as opposed to their position within a structure.
In this model the leader has a co-ordinating function and the executives could even be paid more. They simply perform different roles.
"The only one that has any hierarchical involvement is the owner. Within every structure someone needs to take an overall view of what's good for the entity in the short term and in the future."
A molecular structure can morph quickly, add bits on and take them off - an ability Mawson says is necessary in a global economy where companies and economies join up more, and organisations have to rethink how they operate and relate to the market.
"The other problem you have with large organisations is that they have been designed for permanence, so when organisational change comes it's a big shock."
Trust is a critical factor, as are the assumptions underlying the psychological contract between employees and employer. A kinetic approach relies on everyone having "grown-up" conversations, and problem-solving in relation to change. The organisation is about people operating in a world of change, rather than the parent who gives the illusion of a permanent job.
Benefits of the kinetic model include: less hierarchy; less cost associated with middle management; an organisation more capable of making decisions and changing without destroying good will; less office space owned; ability to flex cost base up and down with changes; employees motivated and more in tune with the end output; greater balance between people's personal and business worlds.
Smaller, younger companies can adopt these sorts of ideas without the baggage of the old.
"Where we see most resistance are places like banks, insurance companies, traditional white-collar organisations."
Social entrepreneur, Roger Tweedy has extensive experience within the voluntary sector and with issues in employment across public and private sectors. He believes 70 per cent of jobs could be done on an outcomes basis, but cautions that employers may see this as an opportunity to use people as a "just-in-time" workforce.
"To go the next step there has to be a fundamental change in thinking. While there are some employers playing at the fringes [such as] new software houses, film and creative industries - more the mobile office notion - I don't know many organisations that have embraced it."
What Tweedy sees is organisations where the rules say "you can doit" but the culture says "whereis Johnny at 8am?".
"It isn't fully embraced and there's an expectation that to get ahead you have to be there."
Tweedy notes a corporatisation of the voluntary sector, which he says produced the most organic organisations of the past.
"[They] saw a problem and went and did things. The irony is the community sector has become corporatised to get government funding."
Social enterprises are one way to go, however even they can become corporatised to survive.
"And you can't work all on your own, people need to work in collaborative ways."
He sees the way we work as being a multi-faceted issue that extends beyond a rethink of our institutions to issues as diverse as transport and wealth distribution.
"Hopefully younger people will see new ways of organising and energising work."