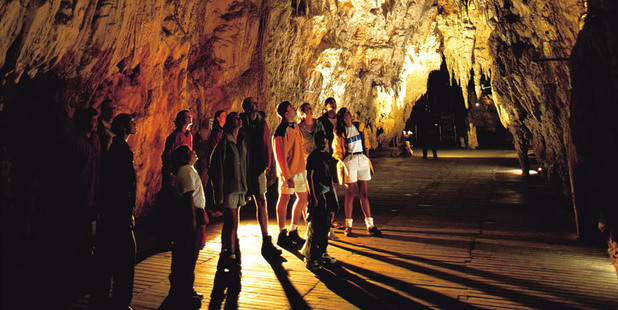 Tourism Holdings operates the Waitomo Glowworm Caves tourist attraction. Photo / APN
Tourism Holdings said its annual earnings had recovered to pre-global financial crisis levels, driven in part by a pick-up in motorhome rental activity during the 2011 Rugby World Cup.
The company said the cup, tight cost control, operational improvements and the first full-year contribution from its United States motorhome business, helped drive the 2011-12 annual net profit to $4.3 million, which compared with a loss of $27.3m in the previous year.
See more of the company's financial results here.
The prior year's loss included a non-cash goodwill write-down of $26.1m.
The latest result was in line with the company's own earnings guidance.
The New Zealand rentals business achieved earnings before interest and tax (EBIT) of $5.5m up $3.5m or 175 per cent on the prior year. The increase in demand due to the cup contributed around $4.5m in EBIT.
The board announced a dividend of 2c per share, taking the calendar year dividend to 4c. Tourism Holdings did not pay a dividend in 2010-11.
The company said the broad macro-economic factors for tourism worldwide were still of concern, especially as its primary market opportunities are centred in Europe and the United Kingdom.
"Other market opportunities such as China and East and South East Asia are appealing to many tourism operators, but they do not yet have strong traditions for self-managed itineraries that are the focus of THL's operations," the company said.
"New Zealand still holds a strong positive reputation internationally, however, this needs to be balanced against the price expectations of the customer when comparing alternative destinations," it said.
The United States market was benefiting from a lower US dollar but the Australian market held some uncertainty, the company said.
Tourism Holdings shares last traded at 58c, down from its 12 month peak in February of 67c.
- APNZ