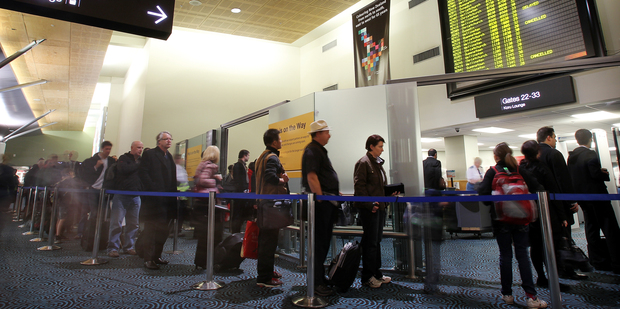 The lure of Australia continued to keep the departure lounges busy last month.
Overall, there was a net outflow of 660 migrants, seasonally adjusted, Statistics New Zealand said, reversing June's net gain of 520.
It pushed the annual tally to a net loss of 3800, compared with an average net gain of 16,300 a year over the previous 10 years.
The number of departees for Australia last month was 4337, 90 per cent of them New Zealand citizens, while 1145 came the other way, two-thirds of them returning New Zealanders.
For the year ended July, the gross outflow of permanent and long-term migrants was 87,475, up 7 per cent from the year before, the majority of whom (48,737) were New Zealand citizens leaving for Australia.
On the inbound side, more than one in four of the 83,475 arrivals (1 per cent fewer than the year before) were returning New Zealanders. Among immigrants, the main sources were the United Kingdom, at 14,067; China, with 7733; and India, at 6435. The annual net loss to Australia, 39,800, equals the highest ever recorded.
Infometrics economist Matt Nolan said: "High unemployment in New Zealand [6.8 per cent here compared with 5.1 per cent there] combined with the mining boom in Australia has convinced a large number of Kiwis to head over in search of work."
Although he expects New Zealand unemployment to gradually decline and falling mineral prices to crimp growth in Australia, he said departures would remain high, ensuring further net migration outflows heading into next year.
ASB economist Christina Leung also expects departures for Australia to remain very high over the rest of the year, but she said the net outflow of migrants took some of the pressure off the tight New Zealand housing market.