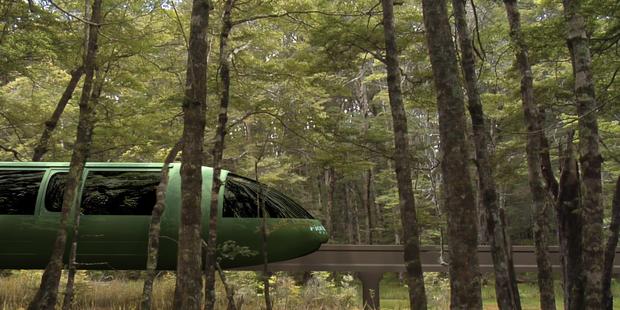 Plans for a Fiordland monorail should not be affected by the receivership of Canterbury property development Pegasus Town, says Bob Robertson - the developer linked to both projects.
Questions have been raised about the future of the Fiordland monorail proposal after the receivership of Pegasus Town Ltd - the company behind a residential development north of Christchurch.
Robertson said monorail critics would make negative links, accusing him of being an unreliable developer, but they were wrong.
"What have those critics ever done in life? Have they ever run a business? If everyone was like that, you'd have nothing in New Zealand," he said.
Robertson is also behind the Fiordland Link Experience, a project by Riverland Holdings which hopes to take tourists from Queenstown to Te Anau via catamaran, all terrain vehicles and a 41km monorail journey, shaving time off what is now a long trip.
Robertson said the Pegasus project was ring-fenced so there was no cross-liability issues on any other of his interests including the monorail proposal. Pegasus was doing well and he said the only reason the company was put into receivership was over a loan, that it should be business as usual at Pegasus and the receivership would have no effect on residents or section buyers. The company is now with accountants Grant Thornton.
Robert Krausz, media liaison for monorail opponents Save Fiordland, said his organisation was watching developments with interest.
"We have been wondering all along if Riverland Holdings will actually build the monorail," he said, speculating that it could get permission, then sell the development rights.
A rival business, Milford Dart, wants to dig access roads and an 11km coach tunnel under the Routeburn Track in Mt Aspiring and Fiordland National Park to speed the journey from Queenstown to Te Anau.
Robertson is managing director of Infinity Investment Group which says it has large-scale work on.
"The group is currently carrying out around $1.5 billion of development in the South Island and delivers projects of excellence that are socially responsible and characterised by innovation, quality and commercial success," Infinity says.
In March, Robertson said a house and land expo offering subsidised sections for earthquake-affected buyers drew 1500 people and 47 sections were sold on one day.
Sales of more than $28 million were made at Pegasus after the event, he said.
Sales staff at the Pegasus office were being directed on Friday to refer all inquiries to the receivers and said they could not say what they were telling buyers.
The development was launched with plans for 7000 residents - it currently has 600 residents.