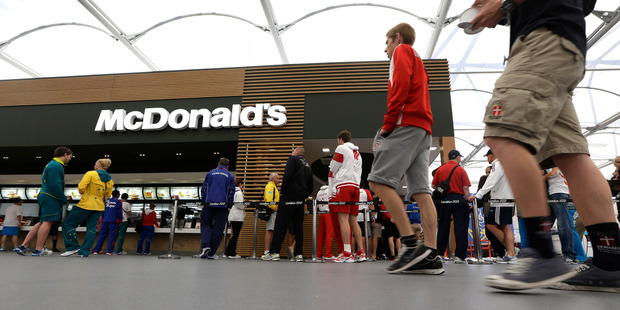 Former prime minister Mike Moore has finally put lamb burgers into the hands of New Zealanders - 30 years after copping flak for the very idea.
Moore, now New Zealand's Ambassador to the United States, was at McDonald's in Greenlane today to promote its new lamb burger.
His "somewhat throwaway comment" as trade minister in the 1980s that lamb burgers could be a way for New Zealand to diversify its lamb exports drew much derision at the time, with Robert Muldoon labelling him "Chutney Mike".
Today, he said when he made the comment, no one had considered the idea.
"I thought I was making it up."
A tweet by Moore last week set tongues wagging - "Ha! It is wrong to be right too soon. The big guys back the Lamb Burger & so does the little guy."
McDonald's is hoping the partnership with Beef and Lamb New Zealand will follow the success of its 'gourmet' Angus beef burgers, having sold two million kilograms of beef since their introduction.
"We are thrilled with this new partnership and the potential these products have to get Kiwis eating more New Zealand lamb," said Beef and Lamb New Zealand chief executive Rod Slater.
Independent research showed that while 82 per cent of New Zealanders liked lamb, 65 per cent found it too expensive to buy.
Moore said he was in town to show an unnamed American what New Zealand had to offer.
"I can't say who but I've got a very important visitor from a rural state," he said.
- APNZ