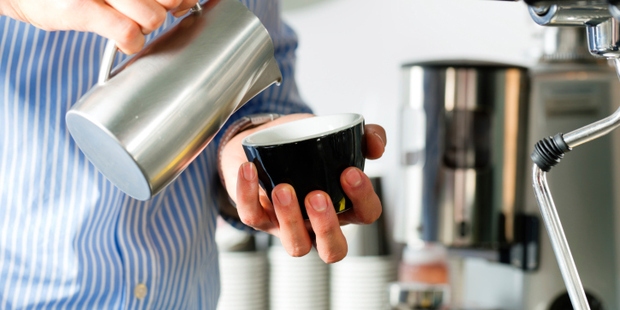 You would have read about Tim Jones in my column several times over the years. First as the owner of the café I thought would never survive because it was located next to the Goliath of Nosh. Café offers menu of strategies that boost sales detailed several very smart business decisions Tim implemented to make his lovely Cigana café thrive. For example he decided to do pre-purchase rather than loyalty cards. He recognised two things. First, his customers would have the resources to purchase their coffee in advance. Second, loyalty cards did nothing to drive, nor keep customers "loyal". Tim felt that if your customers trusted you, they would go for it. The prepaid card of coffees has been a raging success. For the customer, it's pure convenience - being able to have a coffee without the financial transaction. It also gives them a saving off the normal price. For Cigana, the card:
* Locks in customers rather than having them go elsewhere.
* Increases sales. I can attest to getting a coffee when I only marginally wanted one - because I had the card with me.
* Each card sold equals cash up front, improving cashflow.
The next article Download some iCoffee and boost sales covered him being the first off the block at least in our Auckland area by creating an iPhone and Android app to pre-order coffee for pick up. At the outset, with nothing more than word of mouth about the app, Cigana app sales were 10 per cent of his business. It increased sales, as a customer remarked 'I would not drink coffee everyday it if wasn't for the ease of the Cigana app: I don't even need to have a card, I just hit send, walk in and pick up.'
Slashing 2 Litre Milk Prices
A chain of neighbourhood events now bring me to this third column about Tim. How one small clever thought has had a huge beneficial impact locally for customers, non-customers and business.
Let me take you back to mid-2009. Tim had again put on his thinking cap. What could generate more foot traffic into his café's (he had two back then, now it's four), and drive coffee sales?
He came upon the idea of selling 2 litre bottles of milk at a reduced price. The local price was $5.20 at convenience stores around him. Tim did a deal with his supplier Green Valley and sold milk at $3.00 each or 2 for $5.00 initially. Price increases occurred along the way with the changing price of wholesale milk. It brought business in for Tim. The goal wasn't to make money on the milk, rather the upswing in go-with coffees. Within a very short time in the surrounding neighbourhoods, the Green Valley 2- for signs started popping up (although a bit dearer in price).
Fast forward to roughly six months ago, Nosh got in the act. Undercutting, they started selling milk at $2.50 a two litre (a significant loss leader). It was so successful, they have brought out their own label and now are selling heaps of milk at $3.00. Tim's matched the price; Pak N Save which I heard swore never to reduce milk prices has caved in too.
What is the main point here?
Creative, lateral thinking in small businesses is too rare. We're in a state of turmoil and change now. Bad economy. The internet changing the way business is done. People information rich yet time poor. Technology changing at lightning speed.
If you want your business to be successful, I don't think it is enough to simply (metaphorically) open your door and expect they will come.
Tim changed his cash flow by changing the way his loyalty card worked.
He gave his customers convenience and instant satisfaction and his business a boost by understanding their needs and the tools they have in hand.
The milk sales a clever, synergetic way to get foot traffic which also had a great consumer side effect. Tim's 'David' action effected the Goliath pricing of milk in many parts of the Eastern Suburbs for the better.