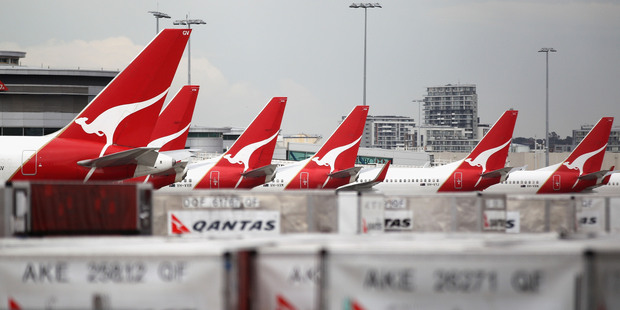 Adding new capacity puts downward pressure on fares, says Nathan Field.
The Qantas profit warning this month was yet another reminder of why many investors won't touch airlines, no matter what the price.
Take the reasons for the downgrade - domestic competition and weakening international bookings. So, pretty much the whole business then.
A lot is being blamed on the recession, and this is undoubtedly a contributing factor, but there are plenty of other "it's out of our hands" excuses that airline chief executives have trotted out over the years.
Adverse currency movements, ash clouds, high fuel prices, bird flu, discount competition, earthquakes, landing fee hikes, and the Arab spring, to name a few.
This is the unpredictable environment that airlines operate in, that is the world.
Given the number of things that can go wrong, it's amazing anyone would want to get involved. But get involved they do, and this is one of the industry's biggest problems.
Despite the risks, there is never any shortage of new capacity.
The planes might be relatively full, but load factors alone don't make for a profitable airline. Seats can always be filled if the fares are cheap enough.
So why does the industry keep adding capacity in the face of substandard returns?
A couple of reasons stand out.
Firstly, the manufacturers at the top of the food chain, Boeing and Airbus, are smart and savvy operators.
They regularly bring out new aircraft with fuel-saving innovations and must-have features like bigger windows and noise-reducing chevrons.
Airline executives buy into the notion that they need to upgrade their fleet to stay competitive and usually have armfuls of cost-benefit analyses to justify the expense.
But if enough airlines have the same idea, that just means more planes in the sky, both new and second-hand, and continued downward pressure on fares.
It's a profit-minimising strategy for the airline industry, but great business for Boeing and Airbus.
Secondly, every country wants its own airline.
There's an economic benefit in having a nationally branded airline flying the flag overseas, bringing tourists into the country, and generating income for local businesses.
That's why the NZ Government grudgingly stepped in to prop up Air New Zealand in 2001, and many other international carriers have received similar bail-outs.
National pride also plays a role.
Air New Zealand might aggravate the odd customer by playing too much grim Kiwi reggae - a criticism from a recent famous visitor - but at least it's ours.
If it were left to Qantas, every visitor's first impression of New Zealand would be accompanied by an aural assault from John Farnham. And wouldn't that be a tragedy.
But whenever governments get involved, there is distortion. Instead of inefficient operators dropping out of the market, they're put on life-support.
Subsequently, struggling airlines can continue buying fancy new planes and flying unprofitable routes, safe in the knowledge that the government has their back.
Private investors get the short end of the stick.
They aren't compensated for the benefits a national carrier brings to a country.
They just want to see a decent return on investment, and that's where the airline industry has failed miserably. Airline executives would have us believe the current weakness is a short-term blip, but over the past ten years, the MSCI World Airlines index has declined 17 per cent in US dollar terms, versus a 30 per cent gain in the broader market.
Qantas and Air New Zealand shareholders have fared even worse, seeing the value of their investments halve over the past ten years.
Perhaps we shouldn't be surprised.
Despite the hoopla around industry awards and the heavy investment in branding, airline travel is essentially a commodity service.
There are small differences, of course, but presuming your flight is on time and your baggage isn't lost, the experience of travelling from A to B is comparable across most modern airlines, at least for the vast majority of us who are thrown in the rear.
The planes travel at the same speed, the seating is hellishly cramped, and after a few hours, the cabin usually smells like feet.
Even if the food on one airline is substantially better than another, how much is that really worth?
They're $10 cafeteria meals - hardly worth worrying about when you're spending thousands of dollars.
With few exceptions, airlines are forced to compete on price and loyalty schemes because the subtle differences in service aren't reflected in ticket prices.
That's why airlines that regularly feature in the top 10 in customer surveys - such as Air New Zealand and Qantas - haven't been able to translate that competitive advantage into reasonable returns.
By contrast, low-cost operators like Spirit Airlines and Ryanair are among the industry's most profitable, and neither is known for its customer service, to put it mildly.
So given the distortions, and the high fixed costs, and the raft of one-off risks, and the intense price competition, could the airline industry ever meet its cost of capital on a consistent basis?
Possibly, if there's substantial consolidation, and the industry stops attracting capital from governments and playboy billionaires.
But until then, investors in the airline sector will continue to endure a bumpy ride.
Nathan Field is a senior equity analyst at Gareth Morgan Investments. Any opinions expressed in this column are Nathan Field's personal views. These opinions are general in nature and should not be construed, or relied on, as a recommendation to invest in a particular financial product or class of financial products. Readers should seek independent financial advice before making an investment decision.