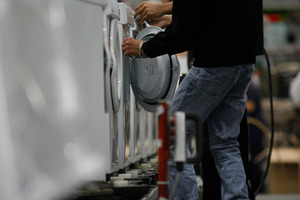 Fisher & Paykel Appliances said conditions in its key markets had remained difficult. Photo / Glenn Jeffrey
New Zealand companies with exposure to the Australian economy will have plenty to think about this week.
The Reserve Bank of Australia (RBA) will issue its interest rate decision today and key March quarter gross domestic product data is due the following day.
The RBA's edict on the official cash rate, which sits at 3.75 per cent, is likely to provide an insight on the state of the nation, which has become increasingly divided economically.
Resource-rich Western Australia continues to boom, thanks to firm commodities prices, but the eastern states have suffered under the weight of the strong Australian dollar.
One source at a major New Zealand bank said corporate clients here were more worried about conditions in Australia than they were about the economic climate in New Zealand.
Such concern has already come out in some of the corporate commentaries.
Fisher & Paykel Appliances, which reported its annual result last week, said conditions in its key markets had remained difficult.
"In particular, the Australian market slowed noticeably in the second half," F & P Appliances chief executive Stuart Broadhurst said.
Australia is an important market for F & P Appliances but there are a handful of other stocks with big exposure there too.
About 39 per cent of Fletcher Building's revenue comes from Australia, and the company has in the past complained about how the strength of the Aussie dollar - which gives imports a cost advantage - has hit its extensive manufacturing operations there.
In entertainment, about 38 per cent of SkyCity's business is in Australia and the island continent is also important for carpet maker, Cavalier.
Last month, RBA surprised nearly everyone by cutting the official cash rate by the 50 basis points, which was an indication of how serious the bank viewed conditions there.
HSBC expects the RBA to hold its rate at 3.75 per cent but for rate cuts to follow later in the year.
"All in all, given solid local conditions, the anticipated support from last month's 50bp rate cut and the fact that the RBA is not yet able to observe the impact of its recent cut on the economy, we think it will hold rates steady next week," it said.
"But, given downside global risks, we are shifting our rates profile and now expect a further 50bp of cuts in the second half," HSBC said.
National Australia Bank expects a 25-basis-point rate cut this week, but such a move is not widely anticipated.
Australian real gross domestic product (GDP) rose by a seasonally adjusted 0.9 per cent in the December quarter, compared with an upwardly revised 0.3 per cent in the September quarter. Over the year to December, GDP rose 2.7 per cent.
Market expectations are for a 0.5 per cent increase in GDP over the March quarter.
Aside from the RBA and the GDP data, key construction and capital expenditure data is also due out during the week.
There is little on the New Zealand business agenda, outside the next Fonterra auction on Wednesday.
Farmers will be anxious to see whether the trend of declining prices looks likely to continue. At the last auction on May 17, prices of dairy products fell for the third straight sale in Fonterra's GlobalDairyTrade auction, reaching a new three-year low as China's slowdown and eurozone uncertainty weighed on commodities.
The GDT-TWI price index fell 6.4 per cent compared to the previous sale a fortnight earlier.
The average winning price dropped to US$2618 (NZ$3433) a metric tonne, the lowest since August 2009.
- APNZ