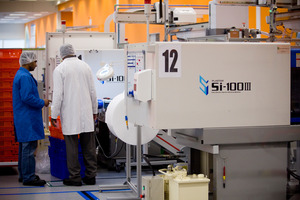 Fisher & Paykel Healthcare said it had raised its net profit by 22 per cent to $64.1 million for the year to March.
The result compared with a net profit of $52.5m, which included one-off non-cash deferred tax charges of $11.5m.
The specialised medical equipment maker said expanding clinical applications for its medical devices and new products contributed to record operating revenue of $516.7m.
In constant currency terms, and excluding the prior year deferred tax charges, the company's net profit after tax grew 23 per cent, mostly as a result of revenue growth, cost control and efficiencies, it said.
The company announced a final dividend of 7c a share, unchanged from the previous final dividend.
In US dollars, the company's respiratory and acute care product group operating revenue increased by 18 per cent and obstructive sleep apnea (OSA) product group revenue increased by 7 per cent over the prior year.
For the 2012/13 year, based on an exchange rate range of US75c to US80c, the company said it expected is operating revenue to be in the range of $540m to $560m and net profit after tax to be in the range of $62m to $70m.

- APNZ