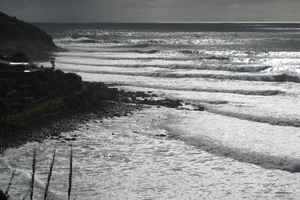 Hundreds of Waikato coastal residents have raised their concerns about the activities of a major Chinese mining corporation that has been drilling for mineral samples for months without scrutiny or consultation.
The Ruapuke Kollective handed a 1200-signature petition to the Raglan Community Board this week about Sinosteel Australia.
The company is an iron ore importer and a subsidiary of Sinosteel Corporation based in Beijing, one of China's largest state-owned enterprises.
It has lodged exploration permit applications with the Crown Minerals Office but locals say it has been drilling for core mineral samples, primarily ironsands, on private farmland south of Raglan for several months.
Belinda Goodwin, a member of the concerned group, lives at Te Mata south of Raglan.
She said residents were unaware of the company's intentions until they noticed drilling, and helicopters surveying the area.
The group lodged the petition to register an objection with the Waikato Regional Council if Sinosteel seeks resource consent.
Goodwin said the landowner was reluctant to give any information about what was going on.
He organised a meeting with the company's geophysicist, Jayson Meyer, who said up to 40 million tonnes of ironsands could be mined in the area. Meyer could not be reached for comment yesterday.
"He said the mining had completed its first stage which was the exploratory drilling. It's now in its second stage, which is a planning and feasibility study," Ms Goodwin said.
"The main thing they are after is ironsands, titanium, nickel, gold, lead and at least 10 other minerals. They explained to us that the only way to extract these minerals was via open-cast mine and that got us all alarmed."
Raglan ward councillor Clint Baddeley said he was unaware of any oversight of the activities, as drilling on private land did not require consent from the Waikato Regional Council.
But it was too early to conclude that mining would go ahead.
"The thing that has generated concern in this particular case, however, is that the way they would extract the ironsands would be by open-cast mining," Baddeley said.
"So you can appreciate the concern that we are in a rural area where the land is used primarily for the production of food."