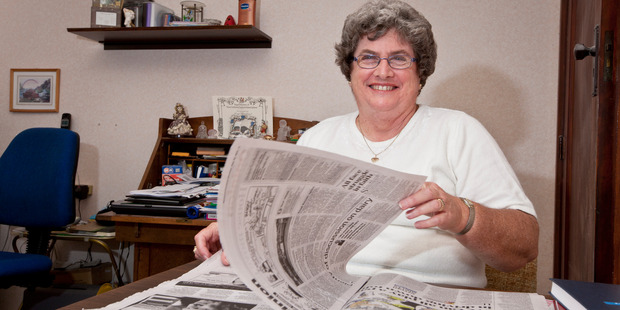 Papers are important to Frances Parnell. Photo / Tracey Grant
Readers picking up their newspaper are now more likely than ever to be reading a tabloid-sized paper, delivered in the morning. And even the New Zealand Herald is considering a change in shape and size.
To battle tough economic times, and with circulation figures under pressure, many regional papers have switched to the smaller format - officially called "compact" rather than tabloid, to avoid connotations of a change in reporting style. More evening-delivery papers are also moving to morning deliveries.
Whangarei's Northern Advocate, the Wanganui Chronicle, Oamaru Mail and Wairarapa Times-Age are all now tabloid size.
APN regional newspapers chief operating officer Rick Neville said the move had been well received by readers. Women in particular preferred the smaller size as it was easier to handle. It gave the impression of a thicker newspaper, something that regional papers had struggled with as pagination was cut when advertising dipped.
Gavin Ellis, senior lecturer in political studies at the University of Auckland and a former editor of the Herald, said newspapers were looking at ways to make their publications more convenient. "It probably also follows a desire on the part of readers for shorter stories. They have less time to dedicate to the weekday paper."
Neville said some of the markets that had been changed to compact had been experiencing sharp declines in readership and all had halted, if not reversed, that trend. The Northern Advocate had experienced its best casual sales in three years after the change, although some of that could be the novelty factor.
Neville said the move was not about saving money. The number of pages in a broadsheet paper would roughly double to become a compact paper and the amount of newsprint used stayed the same.
Ellis expected that in some cases pagination might drop by the minimum four pages, which would save some money.
Neville said the move was prompted by APN's experience with the Christchurch Star. When the city's earthquakes put the paper's building out of commission, it was produced from Auckland, where it was more manageable to produce a tabloid paper, required daily at the time to keep up with the demands for news.
When it returned to its usual twice-weekly distribution, the size stayed the same.
Bigger papers, such as the Hawke's Bay Today, have moved to morning delivery but had not yet made the switch to tabloid size because they tended to have more full-page advertising.
But Ellis said there had been a worldwide trend for weekday advertising spending to drop. "Not just in people placing ads but in the size. There are fewer full-page ads during the week so fewer constraints on changing the format."
Neville said the move to morning delivery was natural. "By moving to the morning I think we're producing a paper at the time when it's most convenient and readers have more opportunity to read the paper."
The Fairfax-owned Waikato Times went to a morning delivery last year. Chief executive Allen Williams said the response had been good. "The latest readership study shows readership has gone up."
He said a move to a smaller size was not being considered.
Ellis said morning delivery could be problematic for papers that were in the Herald distribution area.
"There is a danger that people may choose between the two."
Neville confirmed a smaller size was being considered for the Herald and the idea would be put to the board this year. It would be important to preserve the paper's credibility.
Ellis said the paper's designers would need to resist the temptation to give the paper a tabloid appearance.
"Compact is a state of mind, not a format. It's seductive and encourages bigger headlines and fewer stories. The challenge is maintaining the compact ethos rather than letting it drift into tabloid."
Neville declined to comment on the possibility of regional papers being sold, beyond saying that Deutsche Bank was looking at the structure of APN.
But he was confident that regional papers still played a huge role in their communities and were in many cases the only vehicle available for people to get local news.
Family of keen readers
Frances Parnell says the Wanganui Chronicle is a big part of the local community. Her husband is a prolific letter writer and her son did a paper round while at school. She's been a subscriber for about 30 years.
Parnell is happy with the paper's move to a compact format. "I can sit at the table and open it, it's more manageable." She doesn't buy a national paper and gets news during the day from websites.
But in Whangarei, Northern Advocate reader Isabel Joass isn't so sure.
She has grown up with the newspaper and says the change to a smaller format is taking some getting used to. "It feels like I get through it faster than I used to."
She had been reading the New Zealand Herald first then the Advocate in the evenings, but now gets both at once.
Changing times
Papers that have changed size or delivery time:
* Waikato Times
* Hawke's Bay Today
* Northern Advocate
* Christchurch Star
* Oamaru Mail
* Wairarapa Times-Age
* Wanganui Chronicle