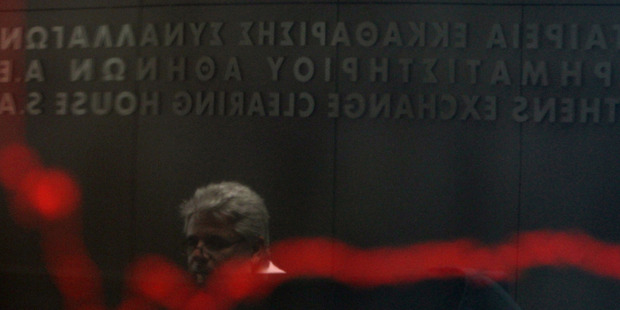 As Greek parties struggled to form a new government and Spain asked its banks to set aside more money to cover bad loans, investors were playing it safe.
Encouraging the Greeks to stay on track and allaying fears the nation might exit the euro, the European Financial Stability Facility's board confirmed the release of 5.2 billion euros from a first installment of 39.4 billion euros by the end of June.
Even so, trouble looms on another horizon. Borrowing costs for Spain jumped, pushing 10-year yields above 6 per cent, on the nation's plan to demand banks set aside another 35 billion euros against loans to the struggling building sector.
There's plenty of concern that Spain might be next in line for an international bailout.
Europe's Stoxx 600 Index dropped 0.4 per cent on the day, while the euro slid to US$1.2948 at 4.25pm in London.
The currency weakened for an eighth consecutive day, its longest losing streak in 3 1/2 years, according to Bloomberg News.
"This is a continuation of a trend that has prevailed over the past week, with Greek political disarray likely to be a drag on the euro for the foreseeable future," Joe Manimbo, senior market analyst at Western Union Business Solutions in Washington, DC, told Reuters.
"The rise in Spanish bond yields is adding to the bearish tone and is providing investors with yet another reason to distance themselves from the single currency."
Three-month euro/dollar risk reversals were trading at - 2.9 vols on Wednesday from - 2.2 vols on May 1 with the clear bias to euro puts. Implied volatility has also risen, with three-month euro/dollar options at 10.78 per cent versus 9.45 per cent at the start of the month.
German bund yields dropped to record lows, with the 10-year rate falling below 1.5 per cent for the first time.
In afternoon trading in New York, the Dow Jones Industrial Average fell 0.50 per cent, the Standard & Poor's 500 Index dipped 0.29 per cent and the Nasdaq Composite Index slipped 0.07 per cent.
"It's a very difficult market to trade in. I'm advising my clients to just hedge out all the way into July because we are going to see some heightened volatility like today for awhile," Randy Frederick, managing director of active trading and derivatives at Charles Schwab in Austin, Texas, told Reuters.
The appeal of the relative safety of US fixed-income securities is on the rise.
The Treasury sold US$24 billion of 10-year notes at a record low auction yield of 1.855 per cent, lower than the previous record 1.9 per cent in January, according to Bloomberg.