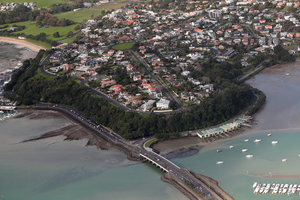 Surging house prices in Auckland and Christchurch reflect local shortages and are not likely to be the harbinger of a nationwide or enduring trend, Westpac chief economist Dominick Stephens says.
The housing market has strengthened noticeably over the past six months with turnover and prices both rising. But the national figures mark unusually wide regional differences, he said.
The Real Estate Institute's stratified housing price index in February was 2.7 per cent higher than in February last year nationwide, but 8.7 per cent higher in Auckland and 7.1 per cent in Christchurch.
Quotable Value's index was also notably stronger in Auckland and Christchurch than elsewhere.
The premium in those cities reflects underbuilding and the earthquakes respectively and can be expected to persist until builders correct the local housing shortages, Stephens said.
Over the three years to June last year Auckland's population increased by seven people for every new dwelling consent issued.
"The average number of people per dwelling in New Zealand is 2.5. Roughly speaking, if there are more than 2.5 people for each new house built then a region is underbuilding," he said.
Wellington, with 3.5 more people for every new building consent, was the only other region underbuilding by this amount. Nevertheless, all regions, including those with no shortage of houses, have seen an upturn in the housing market.
The other factor at work, Stephens argues, is the impact of mortgage interest rates at historical lows. He expects low interest rates to continue to stimulate the market all through 2012.
"Consequently we are now forecasting 5 per cent house price inflation in 2012."
But beyond that he is forecasting no increase next year and slight declines of 1 per cent a year in 2014 and 2015.
"First, interest rates will not stay this low forever. We expect rates to rise substantially over the 2013 to 2015 period."
Westpac is at the hawkish end of forecasters in respect of the interest rate outlook.
"The fact that interest rates at these levels are very clearly stimulating the housing market is the very reason we are at the more hawkish end," Stephens said. "If you drop interest rates to this kind of level, house prices start rising. You can't keep them there because otherwise you end up in the same kind of situation you had in the last decade."
If the Reserve Bank dallied in raising interest rates it could well engineer that environment again, he said.
Another reason to expect the outbreak of house price inflation to be temporary is that, as a legacy of the mid-2000s boom, house prices remain stretched relative to incomes. At 5.9 per cent, floating mortgage rates are the lowest they have been since the mid 1960s.
"At a more normal mortgage rate - the average rate since 1992 was 7.8 per cent - house prices would probably be falling and we would regard houses as overvalued," Stephens said. "Regions experiencing outsized gains at present should be wary of local prices underperforming once the shortage is alleviated. Auckland house prices surged in the early-1990s, but subsequently rose more slowly than other regions of New Zealand. By 2009 the old relativity between Auckland and the rest of New Zealand had been restored."
Stephens said he was "agnostic" about about how much further the divergence had to run.
There is some risk of a slow supply response in Auckland because of competition for construction sector resources from the need to rebuild Christchurch.
Another risk, if the underlying supply/demand imbalance is slow to be relieved, is the re-emergence of speculative investors as the marginal buyers at the lower end of the market, bidding up prices in pursuit of untaxed capital gains.
Tax changes in the 2010 Budget - and more the lowering of the top marginal tax rate than the changes to depreciation rules - were important in reducing the attractiveness of investment property as a tax shelter.
"A capital gains tax would have a big effect," Stephens said.