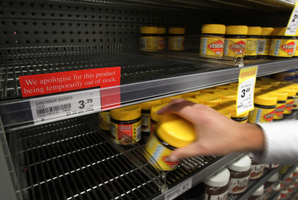 It's been dubbed Marmageddon and the Marmapocalypse ... but Marmite-maker Sanitarium insists it didn't plan the shortage crisis.
But the company has been quick to capitalise on the resultant hysteria as shelves empty of the breakfast spread, a marketing expert says.
As the last remaining stocks disappear from shelves, Dr Bodo Lang, senior marketing lecturer at Auckland University, said the exposure across both mainstream and social media had turned around a bad situation for the firm.
"The worst that could have happened is if they run out quietly and leave a sour taste in consumers' mouths," said Dr Lang, whose research area is word-to-mouth and viral marketing.
"I'd be very surprised if Sanitarium's PR company or ad agency wasn't involved in this ... if they hadn't done a few things to help this go viral."
Shelves around the country have been stripped of Marmite after news of its shortage broke this week.
Jars of the black gold have been listed on Trade Me, and news of "Marmageddon" has lit up social networking sites such as Facebook and Twitter.
Dr Lang said Sanitarium probably stoked the fires by making sure information was ready to go out to media and ensuring spokespeople were readily available and on message.
"I've also noticed the Marmite entry of Wikipedia is very up-to-date. It had media quotations from March 19.
"So somebody is really looking after this very, very well, making sure all the balls are in the air, and that they are well polished. So the whole thing can go around and around."
Pierre van Heerden, Sanitarium's general manager, told the Herald he had fielded non-stop calls from media including CNN and British newspapers the Guardian and Daily Mail.
But he rejected any suggestion the shortage had been planned or manipulated.
"We've had a number of inquiries - is this a sophisticated marketing plan, or some hoax or something like that?
"Well, it definitely isn't. Sanitarium doesn't participate in that kind of marketing. This is a genuine issue that we are facing."
The company suspended production from last November until mid-July after earthquake damage meant a tower at its Christchurch factory had to be pulled down.
Initial inspections had cleared the factory but a more detailed report picked up the safety issue and the surrounding Marmite plant - the only one in the country - is unsafe to use while the tower comes down.
Mr van Heerden made media appearances in November to talk about the damage, but it was hoped a way would be found to continue Marmite supplies.
"This included on a temporary basis bringing stock in from overseas. I sent staff overseas to work with companies in South Africa, for instance, where they also produce Marmite.
"The results of that unfortunately weren't positive. And we ended up with the only thing we could do is really focus on getting our own plant back into operation again."
Sales had been hurt in recent weeks as certain sizes of Marmite ran out and even with panic-buying the company would not be benefited by the shortage in terms of sales, he said.
But Dr Lang said the brand exposure - including comments from Prime Minister John Key - and customer engagement created by Marmageddon was massive.
THE OPTIONS
VEGEMITE (AUS)
Prime Minister John Key says he can happily switch to the Australian-made rival spread, currently on special at most New Zealand supermarkets.
PROMITE (AUS & NZ)
Made by Masterfoods, it's a bit like Kiwi Marmite in that it's a yeast extract spread.
MY MATE (UK)
The UK brand (called Marmite over there) is available here. However, its powerful salty taste may offend those raised on the sugar-laced Kiwi variety.
HOME BREW
The internet abounds with recipes, although most are for the British version. Ingredients: brewer's yeast, sea salt, onion, carrots, turnips and celery.
MEAT LOVERS ONLY
Bovril and Oxo may not be so good on the breakfast table.