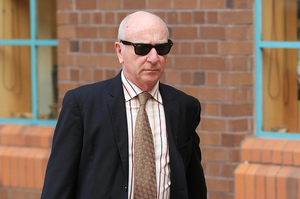 Despite allegations from a co-accused that he was more "hands-on" at the failed finance company, Bridgecorp's Rob Roest says he was "most junior of all the directors" and spoke up about problems with investor payments.
On trial in the High Court at Auckland, Roest and fellow director Rod Petricevic are both accused of knowingly making false statements in offer documents that Bridgecorp never missed payments of interest or principal to investors.
The Crown says Bridgecorp began missing payments nearly five months before it collapsed in July 2007, owing 14,500 investors $459 million.
Roest has admitted that he knew about problems with investor payments at the time but maintains they were only "delayed" - not missed.
He has also said he told Petricevic about payment issues in morning meetings, which Bridgecorp's former managing director has flatly denied.
The allegations have flown both ways and last Friday Petricevic's lawyer, Charles Cato, labelled Roest a central figure within the company, who had "his finger well and truly on the financial pulse of Bridgecorp".
Cato also said Roest, as finance director, had a more hands-on role at Bridgecorp than Petricevic, whose job was to grow the business.
"Mr Petricevic was not hands-on ... the people that were hands-on were Mr Roest and Mr Jeffcoat [the former general manager of Bridgecorp]," he said.
But Roest's lawyer, Rowan Butler, told the court during closing submissions yesterday that his client was the "most junior of all the directors" and had been in the role less than a year when payment issues emerged.
Roest had "nothing to gain from silence" and would have "of course" informed Petricevic, whose office was right next door, Butler said.
In response to Crown accusations that Roest misled investors in Bridgecorp's offer documents, Butler said his client had acted with honest intent.
The allegedly misleading prospectus, registered in December 2006, went through a corporate due diligence process that was "extensive, well supervised [and] done in good faith," Butler said.
The due diligence involved Bridgecorp staff and managers signing off on statements in the prospectus line-by-line.
There was also external input on the document from auditors, solicitors, the trustee and the Ministry of Economic Development, Butler said.
"It is submitted that the board, including Mr Roest, could be satisfied and were satisfied that when the prospectus was registered it was accurate."
In wrapping up his submissions, Butler said if it was reasonable for Crown investigators to rely on Bridgecorp staff when preparing for a criminal trial, "surely it was reasonable to rely on them when running a company".
Bridgecorp director Peter Steigrad's lawyer is due to give his closing statements today, in what is expected to be the final day of the trial.
Steigrad faces charges for allegedly misleading investors in Bridgecorp's offer documents.
After closing submissions, Justice Geoffrey Venning has indicated he will deliver his verdict on April 5.