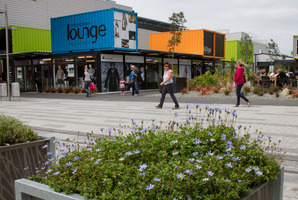 Rangiora businesses have been hard hit by the closure of earthquake prone buildings with some reporting a 20 to 30 per cent drop in trade.
Until recently it appeared the north Canterbury town, which is 25 kilometres from Christchurch and has a population of about 14,000, had emerged from the quakes largely unscathed making it a mecca for city shoppers wanting to escape cordoned buildings and security fencing.
But late last week a further five Rangiora businesses were forced to shift making a total of 15 affected by engineering assessments of commercial premises. A one block section of High Street, Rangiora's main shopping street, is also closed to traffic.
Chief executive of the Waimakariri District Council Jim Palmer says five buildings closed after they were found to be structurally dangerous and a further three adjacent buildings were vacated because they are in the "drop zone."
Palmer says the Farmers department store in High Street was an "anchor tenant" for the town and it was a real blow when it shut abruptly following an engineering inspection on March 2.
""Informal feedback from businesses is that they are certainly struggling significantly as a result of these closures and trade has taken a significant hit. Some are saying it's 20 to 30 per cent down, if not more, and the odd retailer has had a day when they have not had a (single) sale.
"People have started to realise that these are the sorts of issues businesses in Christchurch and Kaiapoi have had to deal with for 18 months, now it has migrated to Rangiora and it has taken a wee while to see the effect of that.
"But retailers have come to terms with the predicament we face and are working hard on ways to bolster trade and encourage people to come and shop."
The council has agreed to spend $88,000 on a temporary container shopping precinct similar to the Re:Start project in Christchurch's Cashel Mall.
Palmer says it's likely the council will end up spending more than that because it has opted to buy, rather than lease, specially fitted-out containers to be set up on the lawn in front of the council offices in High Street.
"The rental terms were such that it would be prohibitive for businesses to be able to afford to rent them from us."
The council is meeting with prospective tenants tomorrow and Palmer estimates up to half a dozen businesses will be keen to take up container space because of the severe shortage of commercial premises in Rangiora.
He says it's likely the temporary accommodation will be needed for two or three years as earthquake prone buildings are progressively strengthened.
Last year the council began identifying commercial buildings at highest risk of earthquake damage and has a list of 100 that it is working through, with 30 classed as earthquake prone so far.
"Where we think a building has elements that are dangerous, we send in one or two or our structural engineers and either the building owner's engineer or the major tenant's engineer to go through the place, and if they concur the building is dangerous, it has to be closed until that danger can be eliminated."