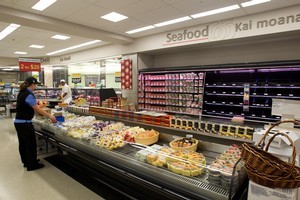 Australian supermarket giant Woolworths says it's gaining market share on this side of the Tasman, with New Zealand shoppers pumping close to $3 billion through the tills at its Countdown stores during the six months to January this year.
ASX-listed Woolworths, which operates Countdown in this country through its Progressive Enterprises subsidiary, released its half-year result yesterday, showing total sales rose 5.2 per cent to A$28.9 billion ($37.2 billion).
The company said New Zealand supermarket sales lifted 3 per cent on the prior comparable period to $2.9 billion.
Trading earnings before interest and tax (ebit) in this country rose 9.2 per cent to $138.9 million, Woolworths said.
The company, which holds a 40 per cent share of the New Zealand grocery market, said its result in this country was commendable, and achieved amid challenging economic conditions.
Its main competitor in this country is locally-owned Foodstuffs, which operates Pak'nSave, New World and Four Square stores.
"We have continued to grow market share, customer numbers, items sold and basket size," Woolworths said.
"This reflects the success of the conversion of the value positioned Countdown brand, which was completed just before Christmas when the last two Woolworths and Foodtown stores were converted to the Countdown brand."
The company said it opened three new stores in this country during the half year and re-opened one store that had been damaged by the Christchurch earthquake.
That brought the total number of New Zealand stores to 158, excluding franchisees, Woolworths said.
One Countdown store and one franchise store remain closed as a result of the Christchurch quakes, the company said.
Progressive opened a 2200 sq m metro store in central Auckland's Victoria St in January.
Woolworths said its total net profit from continuing operations rose 3.2 per cent to A$1.2 billion.
But including a A$300 million before tax provision relating to the restructuring and divestment of its Dick Smith consumer electronics stores, net profit fell 16.8 per cent to A$966.9 million.
"This is a sound result considering subdued consumer confidence, deflationary pressures and the significant investment we are making in the business in line with our strategic priorities for growth," said Woolworths chief executive Grant O'Brien.
At the end of January the company announced that its Dick Smith stores would be restructured and sold as a going concern.
Woolworths said yesterday that the process was now under way and a number of potential buyers had expressed interest.
Woolworths said Dick Smith's sales reached A$873 million in half-year, an increase of 0.6 per cent.
New Zealand consumer electronics sales increased 2.2 per cent, the company said.
Woolworths said it expected growth in full-year net profit, excluding the Dick Smith restructuring provision, to be in the range of 2 to 6 per cent.
Shares closed down 1c at A$25.30 on the the ASX last night.