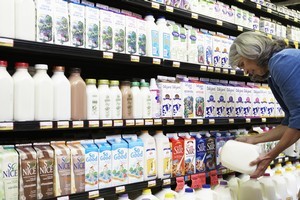 Billions of litres of extra milk are expected to hit the global market once restrictions on European production are fully lifted, says Rabobank.
It said its forecasts indicated when dairy quotas were fully lifted in 2015 an additional nine billion litres of milk will be produced annually in Europe.
Rabobank's senior global dairy analyst Kevin Bellamy said it was estimated that 3.6 billion litres of the additional production would be absorbed by more demand from the EU.
"While the remainder will likely find its way on to export markets, it will be to destinations such as the Middle East and Russia, not into New Zealand's main export markets of Southeast Asia and China," he said.
The staged lifting of quotas, which had historically capped dairy production in European countries, was due to be completed in 2015 and was unlikely to have an adverse impact on the industry in New Zealand, he said.
"While there will be some increase in European dairy production as a result of the quotas being lifted, it is unlikely to be the tidal wave that some people are fearing, and continued strong medium-term growth in world demand for dairy is set to absorb the additional supply."
The global trade in milk had crept up to about 7.5 per cent of total production, mainly because of demand from China.
"For people who are involved in the international market and dependent on the international market there's going to be some concern about extra milk flowing out of anywhere, whether it's Europe or the US," Bellamy said.
"But the other message there is that we're forecasting that global demand will increase by a compound annual growth rate of 2.4 per cent over the next five years and that'll soak up an extra 18.5 billion litres each year," he said.
An updated outlook by Dairy Australia said European milk production for the year ended in November was 123.3 billion litres - up 2.1 per cent on the previous year.
US milk production last year was up 1.8 per cent at 86.4 billion litres, and Australia's was forecast to grow by 3-4 per cent for 2011/12 to 9.4-9.5 billion litres.
New Zealand milk production was expected to grow by 8-10 per cent in 2011/12 which could take it to 18.7-19.1 billion litres.
Rabobank had a trading range of US$3300-3800 a tonne for whole milk powder and prices would generally stay within that during the next five years, he said.
"Hence this extra milk will be absorbed into the big demand that we've got in order to feed the world's population."
The additional nine billion litres of milk was in comparison to production in 2010 and there had already been some growth.
"Following 2015 you'll get those extra nine billion litres. Whether you get them all in the first year, I wouldn't like to guarantee. But they'll step up over the one or two years after 2015," Bellamy said.
BNZ economist Doug Steel said the elimination of EU quotas by 2015 had been on the board for some time.
"The idea that they are going to be abolished and so far away as 2015 shouldn't really affect the market too much."