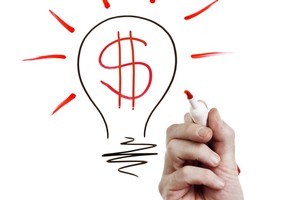 Marketing consultant Graham McGregor on the hidden value of good marketing ideas.
There is an interesting source of profits that many businesses overlook.
It's the opportunity to turn their proven marketing systems into brand new sources of revenue.
Here's how this works:
Step One:
Find something you do that has a proven track record in your own business to improve your sales and profits.
Step Two:
Get other businesses to pay you money to use this same proven system in their own business.
The good news is that this can be very easy to do.
Here's a good example:
A few months ago I was speaking with a very successful life insurance broker. He told me that he had invested several thousand dollars to attend a copy writing course so he could write good sales letters.
He then wrote an introductory sales letter that was targeted for self-employed tradespeople. (Using what he learned on his course.)
He sent out 96 sales letters over a four week period. (About 24 letters a week.)
He phoned each person he had sent a letter to and asked if he could meet with them. He kept a very good record of his results. His letters and phone calls produced 26 new appointments which turned into 6 sales and $19,700 of brand new sales commissions for him.
I told the insurance broker that he had a valuable marketing asset in his letter and phone script that other insurance brokers would happily pay him good money for.
He was a bit sceptical so I did a simple exercise for him.
I wrote a short email which took me about 15 minutes. I sent this email to 10 insurance brokers that I knew in different parts of the country.
In my email I explained that I had an insurance broker client who had a proven introductory letter and phone script that he has used with tradespeople. I mentioned his exact results (96 letters sent, 26 appointments, 6 sales and $19,700 of brand new commissions.)
I explained my client was going to offer his letter and phone script to six insurance brokers in the country to use in their business. The fee was $297 to have a copy of this letter, phone script and also a 20 minute interview that I was going to do with him on the phone.
The fee also included a free consultation on the phone for any person buying his letter and phone script. So he could answer any questions they might have.
Within a few days we had five insurance brokers who all happily paid $297 each to use this proven letter and phone script that my insurance client was using. He made sure these people were in different parts of the country so they weren't competing directly with him in his town.
I interviewed my client on the phone for 20 minutes and recorded the call as an MP3 file. We gave each person who bought his system a copy of this call, a copy of his phone script and a copy of his introductory letter. This was all in digital format so they could easily copy and adapt it to suit their own business. My insurance client ended up with $1,485 of brand new profits from the whole exercise.
All from selling his proven letter and phone script system to other people.
Action Exercise:
Take a good look at your own business. Is there anything you do that has a proven track record to increase your sales and profits? If there is, what types of businesses would potentially find this proven marketing system valuable for their own business?
How could you turn your proven system into new sources of revenue?
"Ideas are the beginning points of all fortunes."
Napoleon Hill
Graham McGregor is a marketing consultant and the creator of the 396 page 'Unfair Business Advantage Report.'
www.theunfairbusinessadvantage.com
(This is free and has now been read by business owners from 11 countries.) You can email Graham on graham@twomac.co.nz