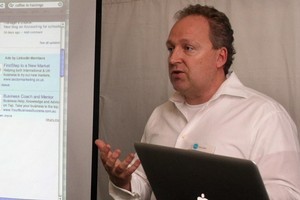 Xero, the cloud-based accounting platform provider, expects full year operating revenue to double as it boosts customer numbers. The shares rose 0.4 per cent in trading today.
The Wellington-based software business expects to double the 2011 operating earnings of $9.3 million this financial year, it said in a statement to the NZX.
That comes after it almost doubled first half sales to $7.9 million in the six months ended September 30, most of which came from the domestic market. The shares rose 4 cents to $2.59 on the NZX.
The company said its committed monthly revenue is $1.75 million, or an annual $21 million, with half of that coming from overseas markets. It lifted its paying customer numbers to more than 60,000 from the 50,000 flagged in the first half result.
Xero was named as New Zealand's faster growing exporter in the 2011 Deloitte Fast 50 index.
Still, the increasing sales haven't filtered down the company's bottom line, and it declared a first-half loss of $3.7 million in November.
Last year, Xero gave up its break-even target in the 2011 calendar year to focus on growing its customer base, and chief executive Rod Drury was confident it had a fat enough bank balance to fund its aspirations.