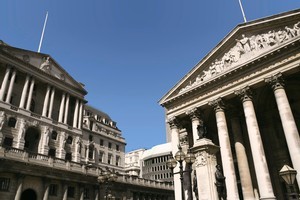 London's Square Mile is shrinking faster than any financial centre in the world.
Having fired more employees than in any other country last year, the capital's banks face falling trading revenue, attacks from politicians to reduce pay and more job cuts. The British Government wants banks to split their consumer and investment banking units while European Union leaders are pushing to tax individual trades by the end of this year.
"We're going to end up with a smaller, more focused financial sector," said Michael Kirkwood, 64, former head of Citigroup's British division, who began his career in the Square Mile in 1965. "The entire financial world became too bloated in the run up to the financial crisis, and London was excessively bloated."
London, the world's biggest centre for foreign-exchange trading, cross-border bank lending and interest-rate derivatives, is being squeezed by both the impact of the European sovereign-debt crisis on demand for its services and politicians who blame financiers for bringing the world economy to the brink of collapse.
Banks are responding to the Basel Committee on Banking Supervision's latest rules by exiting capital-intensive activities such as proprietary trading, putting at risk Britain's biggest exporting industry and 12 per cent of its tax receipts.
Royal Bank of Scotland, which got the world's biggest bank bailout, said last week it would close its equities and corporate finance units, cutting as many as 3500 jobs.
RBS has already cut 30,000 jobs since it was bailed out by the Government in 2008 and 2009, costing £45.5 billion ($87.7 billion).
British financial-services firms eliminated 58,000 jobs last year, more than any other country in the world and 45 per cent of the cutbacks announced by all western European banks, according to Bloomberg data.
The numbers include worldwide cuts by British-based financial companies such as HSBC Holdings and exclude reductions in London by overseas banks such as Credit Suisse.
Employment for London's bankers fell 8.5 per cent last year compared with 2010 and over the next two years will remain below 1998 levels, according to the Centre for Economics & Business Research. United States finance jobs fell 1.7 per cent in the same period, according to headhunting firm Challenger, Gray & Christmas, citing US Bureau of Labor statistics.
The industry's contribution to British gross domestic product shrank from 2009 to 2010, the first time in a decade, according to lobby group TheCityUK, which cited data from the Office of National Statistics. Financial services dropped to 8.9 per cent of GDP in 2010, the latest data available, from 10.1 per cent in 2009. That's still up from 5.2 per cent of GDP in 2000.
The shrinking financial sector is lowering Britain's tax revenue, according to TheCityUK. Financial services paid £63 billion in taxes last year, or 12 per cent of total revenue, it said, citing data from PricewaterhouseCoopers and the City of London Corporation. In 2007 the industry contributed 14 per cent of tax receipts.
Tax revenue is being squeezed because banks are making lower profits. Basel III's capital and liquidity rules will cut investment banks' return on equity to 7 per cent from 20 per cent, says a September report by New York-based McKinsey & Co. That will reduce profit after tax to US$30 billion ($37.1 billion from US$40 billion for the biggest 13 banks, it said. Ian Baggs of Ernst and Young in London said banks were focusing on achieving a high volume of trades with client money in markets such as interest-rate swaps rather than proprietary trading, which uses the bank's own money to take positions and carries a high regulatory capital requirement.
UBS, hit by a US$2.3 billion trading loss in London, announced a plan in November to shrink its investment bank to focus on wealth management at a cost of 2000 jobs. It plans to exit asset securitisation, complex structured products, macro-directional trading and equity proprietary trading.
The investment bank's European headquarters is in London and it employs about 7000 people in Britain.
In the first quarter of last year, bank executives planned to cut costs by 10 per cent to 15 per cent to boost return on equity targets, Baggs said. Now they're targeting 40 per cent.
Clients' aversion to risk amid the turmoil in Europe is also squeezing equity trading desks and smaller stockbrokers in particular. Average trading volumes on the London Stock Exchange have remained below pre-crisis levels, according to data compiled by Bloomberg.
Morgan Stanley's heads of European credit sales and trading, emerging market fixed-income sales and trading departed as well as two managing directors at its equities unit in London. Nomura Holdings is also scaling back its European expansion that began after the purchase of Lehman Brothers' European and Asian units in 2008.
Stockbrokers Evolution Group, Merchant Securities Group, Arbuthnot Securities and Collins Stewart Hawkpoint have all accepted takeover offers from larger competitors since the end of October.
"For firms that have revenue falling off a cliff with a large cost base, the future is very bleak," said Jamie Moyes, who worked at London-based brokerage Liberum Capital until September. "The events of the market place are horrendous." Moyes plans to help set up a stockbroking firm, starting with about six partners.
Aside from trading, equity capital markets and merger and acquisition advisory teams are also being slimmed down as a result of lower demand from corporate clients because of the European sovereign-debt crisis and worsening economic outlook.
The euro-region economy could expand 0.3 per cent this year instead of a previously forecast 1.3 per cent, the European Central Bank said last month. Some forecasters, including Morgan Stanley, project the region will shrink this year.
British firms raised €9.7 billion ($15.5 billion) through share sales last year compared with €24.9 billion in 2010 and €71.4 billion in 2009, according to data compiled by Bloomberg.
The reduced corporate activity is affecting pay. Bonuses paid to the average London financial services worker for last year may shrink by about a fifth to £19,920, or 24 per cent of their base salary, according to a survey by recruitment firm Astbury Marsden.
While London's banks have survived declines before, their profitability is under a fresh attack from international regulators. The European Commission, which drafts EU law, has proposed a transaction tax of 0.1 per cent on trading of stocks and bonds, and a 0.01 per cent rate for derivatives contracts.
British Chancellor of the Exchequer George Osborne called the tax "a bullet aimed at the heart of London" and estimates as much as 80 per cent of the revenue raised will come from British firms.
The commission estimates the tax could raise €57 billion a year.
But the tax will boost transaction costs in the foreign-exchange market by three to seven times and by as much as 18 times for the most-traded parts, a Global Financial Markets Association study said yesterday.
Prime Minister David Cameron insists Britain can veto the EU tax, meaning countries in the 17-nation euro area may need to introduce the levy on their own.
European parliamentarians have also suggested rules to force clearinghouses that handle euro-denominated securities to be based within the euro region, prompting Britain to sue the European Central Bank, saying the plan would compromise free markets. London is home to 40 per cent of over-the-counter derivatives trades and the giant LCH Clearnet Group.
While defending London's financial interests in Europe, the British Government has been talking tough on the industry at home, where unemployment is at a 17-year high and the economy has struggled to grow after the financial crisis four years ago.
Cameron used his first speech of the New Year to pledge an end to bankers' "excess" while Osborne said last week the industry should be a "smaller slice" of the economy.
Cameron's Government last year accepted proposals from the Independent Commission on Banking to force banks to insulate their consumer banking units while increasing capital requirements. That will cost banks as much as £7 billion annually to implement, the panel said.
The plans will affect lenders with investment banking divisions the most and Lloyds Banking Group the least because it is mainly a retail bank, say analysts at HSBC Global Research.
London's decline puts its status as the world's premier financial centre under threat from New York and Hong Kong, which are catching up, according to a survey of 1887 executives by financial-services research firm Z/Yen, published in September.
London's strengths include its depth of expertise, time zone, language and legal infrastructure, says Z/Yen. It is home to 241 foreign banks, more than in any other country, the biggest foreign-exchange market and the largest market for interest-rate derivatives.
- BLOOMBERG