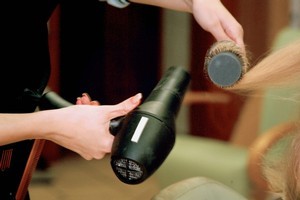 A hairdressing salon and its owners have been ordered to pay over $36,000 in fees, fines and compensation after unfairly sacking one of its workers.
Jennifer Stewart took her bosses who own Special Efx Hair Design in Albany , north Auckland, to court.
Ms Stewart had been working as a hairdresser for 20 years and at Special Efx for several years when Sharon and Rafed Schanan's business Ashtar New Zealand Ltd bought the salon.
Three months later Ms Stewart resigned, giving a week's notice.
The next day she received a letter from her bosses telling her she had been trespassed and not to return.
Ashtar also lodged an application with the Employment Relations Authority asking Ms Stewart to return property, stop working at a nearby salon and forfeit pay for failing to give adequate notice.
Ms Stewart lodged counter-claims with the authority. She claimed she had been unfairly dismissed and sought recovery of unpaid wages, compensation for hurt and humiliation and recovery of unpaid wages.
Shortly before the meeting, Ashtar dropped its claims.
In his ruling released to the media today, authority member Alastair Dumbleton said the employment relationship broke down partly because the Schanans were unsure of their rights and obligations as employers and English was not their first language.
"An unpleasant discussion in which voices were raised between employee and employer was not a reasonable basis for such a disproportionate response of terminating the employment relationship."
He found Ms Stewart was unfairly sacked.
Mr Dumbleton ordered Ashtar to pay Ms Stewart $3097 in lost and unpaid earnings with interest, $8000 in compensation for hurt feelings, $1500 in penalty and $17,000 for costs. The company must also pay the Crown $1500.
Mr Dumbleton also ordered Mr and Mrs Schanan each personally pay Ms Stewart $1750. They also have to each pay the Crown $750.
- APNZ